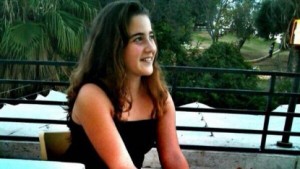 A 16-year-old girl stabbed in Thursday's Jerusalem gay pride parade attack has died of her wounds.
Shira Banki and five others were allegedly attacked by Yishai Schlissel, an ultra-Orthodox Jew who was recently released from a 12 year prison sentence for stabbing three people at a Jerusalem's gay pride parade back in 2005.
The Times of Israel reports that Jerusalem mayor Nir Barkat has expressed his condolences to the Banki family:
"The murder at the pride parade in the streets of Jerusalem is a criminal act, and we won't let it achieve its objective. We'll continue to allow complete free expression in the city for everyone, continue to support all the groups and communities in the city and Open House (an LGBT organization). We'll continue the education to accept the other and tolerance in the education system and won't be deterred by those who try to prevent this by foul methods," he said in a statement.
Reunters adds large rallies were held in Jerusalem and Tel Aviv on Saturday condemning the attack.
Related, "Israeli Lawmaker Comes Out Following Jerusalem Gay Pride Stabbing: 'We Can No Longer Remain Silent" [tlrd]