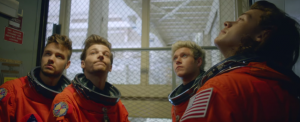 The world's biggest boyband is taking an extended break and won't be touring their upcoming fifth album.
"They are taking a hiatus so they can work on individual projects for a while but they are not splitting up," a source told E! News. "They will remain together and plan to work together in the future."
The news first broke Sunday evening when a source told the UK tabloid The Sun that the band was planning on disbanding in March, with a final concert set for October.
"There is absolutely no bad blood between them and they are all 100 per cent behind the decision," said the source, who added Zayn Malik's departure in March played no role in the band's decision.
Last week, the band released their first four-man music video, the NASA-themed "Drag Me Down."