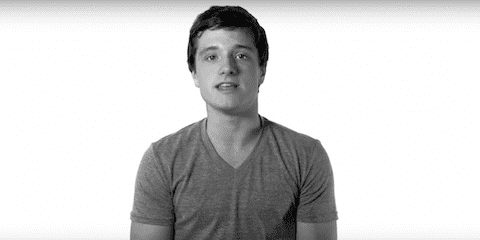 Handsome Hunger Games star Josh Hutcherson spoke with E! Online saying that he hopes for the day when LGBT people are fully accepted and LGBT support groups, like his organization Straight But Not Narrow, can close their doors.
Hutcherson said that despite the success of gay marriage, there's still much more to do and that he looks forward to the day when LGBT people are fully accepted:
"There is still so much to do. It's not only even about legislation. It starts there by making it legally acceptable but socially there is so much prejudice and bias that is integrated into our culture and that's going to be around for while.
"I hope one day in my lifetime we get to close the door on this group but there's a lot more work to do."
Hutcherson became one of the lead spokesman for the campaign when it launched in 2011 with the objective of training straight allies on LGBT issues and how to support LGBT people in gaining rights and acceptance. Hutcherson continues to advance SBNN, hosting a celebrity volleyball match with proceeds benefitting SBNN during the ASICS World Series of Beach Volleyball in Long Beach, Calif. on Aug. 23.
You can catch the hunky Hutcherson's fictional fight for civil rights and justice this fall in the final film of the Hunger Games series, Mockingjay part 2, in the official trailer below: