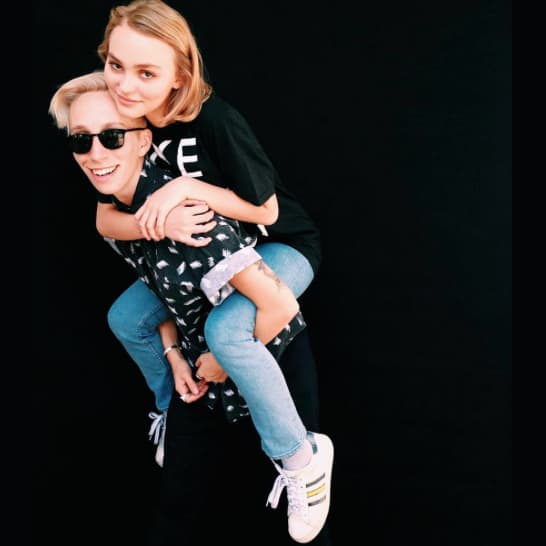 Lily-Rose Depp, the 16-year-old daughter of Johnny Depp and his former partner Vanessa Paradis, has come out as not straight as part of a project created by artist iO Tillett Wright (above, left, with Depp). Depp is an actress and model and was featured on her mother's album Bliss.
The Self Evident Project's mission: "Self evident truths is a photographic record of 10k people in the US who are ANYWHERE on the LGBTQI spectrum."
Wrote Wright in an Instagram post: "I'm so proud of my baby girl @lilyrose_depp. She decided she wanted to be in @selfevidentproject because she falls somewhere on the vast spectrum, and I couldn't be happier to welcome her to the family. She's a tiny gem of a good human. #prouduncle #weareyou"
https://instagram.com/p/6s4QOauIih/?taken-by=iolovesyou
The photo of Lily-Rose on the Self-Evident Truths Instagram page with the caption: "These sweet teen dreams joined the Self Evident Project family over the weekend. The entire point of this project is to help young people feel good being true to themselves, so to us, this is the ultimate win! They are numbers 9,559 – 9,661. We're getting close! ??????‍?‍??‍?‍?"
Depp appears in the photo with Walker Bunting, a 20-year-old photographer, and Amelia Kring.
Watch a video about the project below: