The National Organization for Marriage today handed over donor names from a list they had struggled to keep secret for more than 5 years in a protracted legal battle. The list contains the names of donors in a 2009 campaign to overturn, via public referendum, the marriage equality law passed by Maine's legislature.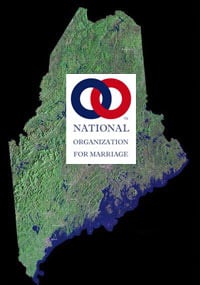 The Maine Commission on Governmental Ethics and Election Practices in 2014 found NOM guilty of money laundering and failure to file campaign reports in a unanimous vote.  The ethics investigation used bank statements and campaign literature to show that NOM used its nonprofit status to draw donations earmarked for the Maine referendum – a violation of Maine election law.
The Maine Supreme Judicial Court on August 4 denied NOM a stay that would have allowed it to continue hiding the donors and evading a ruling from the Maine Commission that it disclose them.
The list contained just six donors.
Sean Fieler of New York City, the president of Chiaroscuro Foundation, gave $1.25 million.
According to the Portland Press Herald, "Fieler has reportedly spent more than $4.6 million on state and federal political campaigns and super PACs since 2010. He is also involved in a new effort to fund anti-transgender rights nationally."
John Templeton of Pennsylvania  gave $300,000.
Terrence Caster of California gave $300,000.
The Knights of Columbus gave $140,000.
Richard Kurtz of Cape Elizabeth, Maine gave $50,000
Kurtz was the only donor from Maine, according to the PPH:
Kurtz, who along with his wife, Virginia, has donated to Gov. Paul LePage and the Maine Republican Party, donated $50,000 to NOM in 2009. Kurtz is also listed as giving $1,000 to the 2008 campaign to overturn California's marriage equality law.
Reached by phone Monday, Virginia Kurtz said neither she nor her husband wanted to comment.
The list is available below.