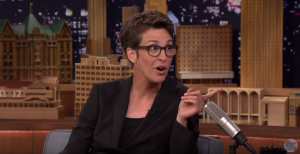 Sitting down with Tonight Show host Jimmy Fallon last night, MSNBC's Rachel Maddow summed up her thoughts on Donald Trump's candidacy with her typical brand of clarity and humor.
"It's a blessing for us, I don't know about the country," explained Maddow. "But if your job is to talk about politics, s**t"
Maddow also revealed why Donald Trump is the kingmaker (or queenmaker) this election:
"If he doesn't [run third party] the Republicans owe him forever. And if he does do that, Hillary Clinton becomes president and she owes him forever. So right now he will never have more power than he does right now. Cause either way this goes – whether he runs as an independent or not – half of the country's political infrastructure is going to owe him for the rest of their lives."
Later in the episode, Maddow taught the late night host how to make a Millionaire cocktail in honor of the Trump.