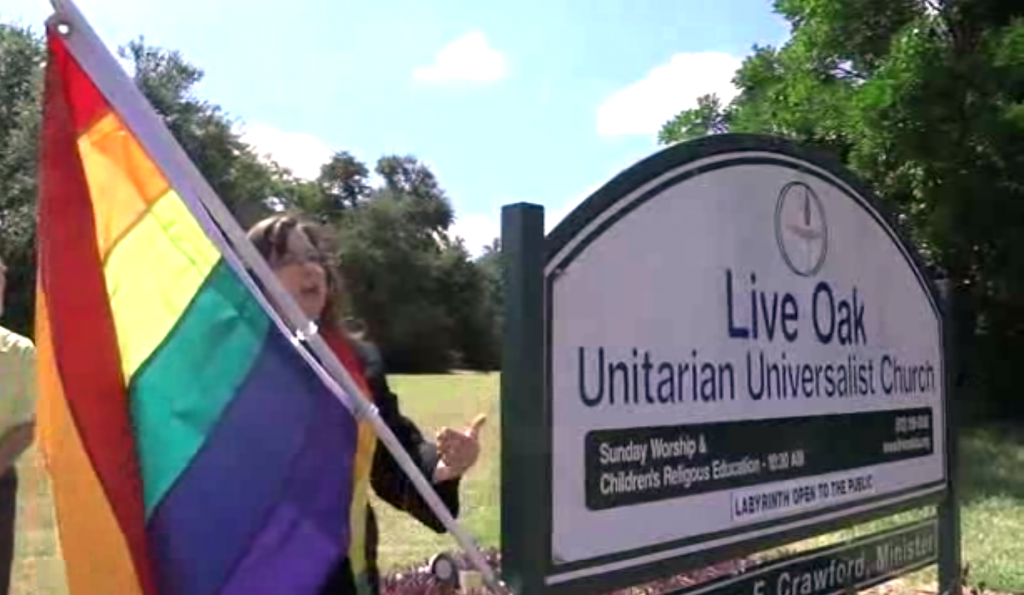 A Texas church has erected a gay Pride flag outside the congregation for the fifth time after it was stolen the previous four.
The Live Oak Unitarian Universalist Church in Cedar Park, outside Austin, first flew the Pride flag from its sign about a year ago. The Rev. Joanna Crawford, minister of the church, installed the flag for a fifth time during a service on Aug. 23, after delivering a sermon titled, "You Don't Have Whisper That Here."
In a video from the service posted by The Austin Statesman, Crawford says:
"One of the things that we refuse to whisper is that we are a deliberately welcoming, inclusive place of worship, and we celebrate the lives and loves of those who are lesbian, gay, bisexual, transgender and queer. Sometimes we shout that welcome with our voices, or with cowbells, and sometimes we shout it with the flutter of a rainbow flag blowing in the breeze. Our flag has again for the fourth time been ripped down and stolen, so immediately after this service, I hope that you will join me in coming outside as we put up flag No. 5. We will not be quiet. We will not whisper. We will celebrate our pride. …
"We hereby install this rainbow flag on our church sign so that those who drive by can see that this is a church that is deliberately welcoming and inclusive to all. This is a symbol that has stood for Pride for the LGBT community. We take our own pride in being part of this. May this sign, may this flag, serve as a beacon to all who drive by to know that they are welcome here."
Watch the video below.