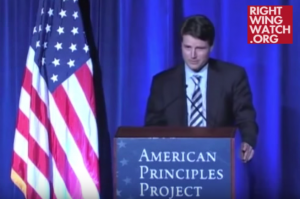 Earlier today, we told you how the National Organization for Marriage handed over donor names from a list they had struggled to keep secret for more than 5 years in a protracted legal battle. The list featured the names of donors in a 2009 campaign to overturn, via public referendum, the marriage equality law passed by Maine's legislature.
The list contained just six donors, with NYC hedge fund manager Sean Fieler providing the majority of NOM's anti-equality financing through his $1.25 million donation.
As Right Wing Watch points out, Fieler has a long history of supporting right-wing and anti-LGBT causes:
His Chiaroscuro Foundation dispenses millions of dollars each year to anti-gay and anti-abortion groups. Fieler is also the chairman of the board of the American Principles Project, a group founded by former NOM chairman Robert George and employing former NOM president Maggie Gallagher that seeks to move Republicans to the right on social issues. In addition to being the major financial backer of APP's affiliated PAC, Fieler has personally contributed to 77 candidates in 19 states since 2008, according to an RH Reality Check analysis.
Through the Chiaroscuro Foundation, Fieler has also funded the research of Mark Regnerus , author of a discredited study on gay and lesbian parents that continues to be cited by anti-gay activists around the world.
In an interview with The New York Times in 2013, Fieler said the "harmful myth about the gay lifestyle" was that "gay relationships lend themselves to monogamy, stability, health and parenting in the same way heterosexual relationships do."
"That's not true," he said.
According to the Portland Press Herald, "Fieler has reportedly spent more than $4.6 million on state and federal political campaigns and super PACs since 2010. He is also involved in a new effort to fund anti-transgender rights nationally."
The San Diego Gay and Lesbian News reported in 2013 that Fieler was the "single largest donor" to the psuh to put California's new transgender students' rights law on the ballot for repeal, contributing $200,000 to the effort.
Watch Fieler speak at a 2012 APP gala in the video below:
https://www.youtube.com/watch?v=j_olUryzsCo