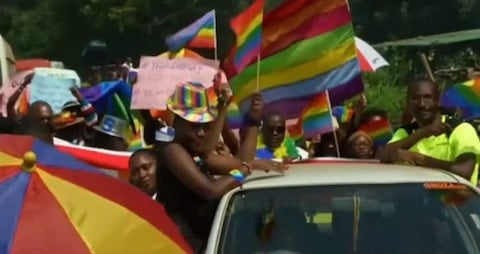 One year after Uganda's supreme court invalidated the country's heinous anti-gay law that allowed for life imprisonment for "aggravated homosexuality" and banned the "promotion of homosexuality", gay men and women in Uganda are celebrating Pride in Kampala. Even though homosexuality is still illegal and punishable by jail time, the celebrants are embracing one of the true purposes of Pride: visibility. Said marcher Moses Kimbugwe:
It is about trying to show the wider community that violence, discrimination, harassment, stigma against LGBT (lesbian, gay, bisexual, transgender) people is bad. So we are here to send a message to the wider population that we do exist, and we want rights like any other Ugandan.
The legacy of "We're here, we're queer, get used to it," lives on.
Check out footage of the celebration below:
https://www.youtube.com/watch?v=qRp6OJSdz3k