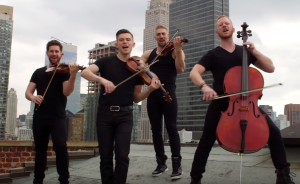 Well-Strung, the string quartet featured on the site earlier this summer for their infectious Hillary Clinton anthem "Chelsea's Mom," are "bach" with another fantastic video showcasing their stings and sexiness.
The track, a mash-up of the group singing Taylor Swift's hit song "Blank Space" while playing Johann Sebastian Bach's illustrious "Partita No. 3 in E Major (BWV 1006)m," is the latest off the group's new album POPssical.
The video centers around the idea of chance meetings and dating and features  Edmund Bagnell (first violin), Christopher Marchant (second violin), Daniel Shevlin (cello) and Trevor Wadleigh (viola).