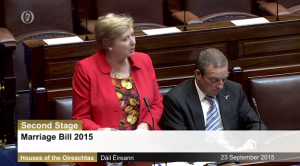 Same-sex couples in Ireland are on track to be able to tie the knot by year's end with the introduction of the Marriage Bill 2015 earlier this morning. The bill, introduced by Justice Minister Frances Fitzgerald, comes as a result of the country's historic referendum vote in favor of marriage equality back in May.
The Irish Independent reports members of the pro-referendum group Marriage Equality gathered outside the parliament of Ireland ahead of the vote. Grainne Healy, chair of the group, said it was a "historic day" and "momentous occasion" for the LGBT community in Ireland.
"It's the end of a long journey – and for those of us in Marriage Equality – it took us 10  years to get here," she said.
Watch the moment the bill was introduced on the floor in parliament below: