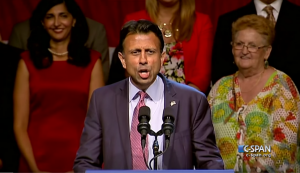 Speaking on Family Research Council hate leader Tony Perkins' radio program yesterday, Louisiana Governor Bobby Jindal stoked fears that the government will soon use the guise of gay rights to go after Christian pastors who speak out against homosexuality.
Said the GOP presidential long-shot:
"They don't believe in our First Amendment rights. This is an assault, this is discrimination against Christians who want to live their lives according to their sincerely-held beliefs….what I worry about is our own government coming against Christian business owners and individuals. They're going to soon be coming for Christian schools and one day the pastors and churches. It is time for us to stand up for our beliefs and remind folks that America did not create religious liberty. Religious liberty created America.
Jindal added that despite the Left and some of his GOP colleagues' desire to see the issue to go away, "religious liberty" will continue to play a big part in this election.
Listen to the hate segment below:
[via Right Wing Watch]