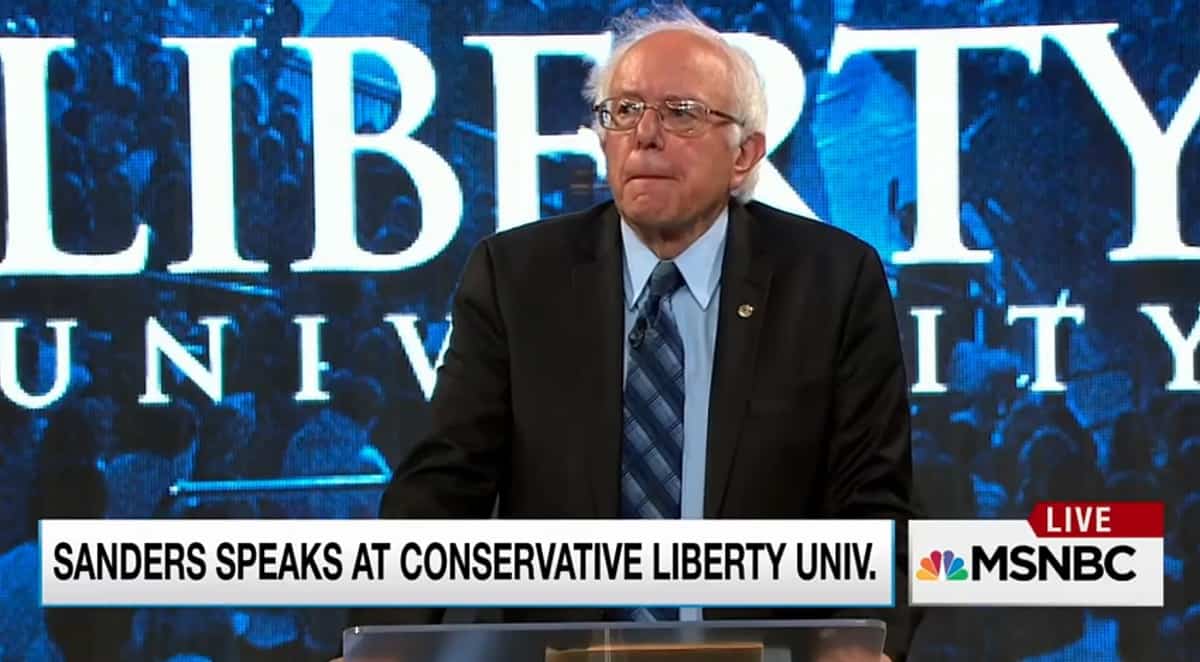 2016 Democratic presidential candidate Bernie Sanders spoke at Liberty University on Monday, the school founded by televangelist Jerry Falwell.
In his speech, which focused on issues of morality and justice, Sanders noted the divide between evangelical beliefs and his own on gay marriage and abortion:
"I am far, far from a perfect human being, but I am motivated by a vision which exists in all of the great religions — in Christianity, in Judaism, in Islam, Buddhism and other religions — and which is so beautifully and clearly stated in Matthew 7:12. And it states: 'So in everything, do to others what you would have them do to you, for this sums up the law and the prophets.' That is the golden rule. Do to others what you would have them do to you…I understand that the issues of abortion and gay marriage are issues you feel strongly about. We disagree on those issues. I get that. Let me respectfully suggest that there are other issues out there that are of enormous consequence to our country and in fact to the entire world that maybe just maybe we do not disagree on, and maybe, just maybe, we can try to work together to resolve them."
Watch:
https://www.youtube.com/watch?v=e1jqDxTLirM
Sanders received wild applause at the beginning of his speech when he stated his views about being pro-choice, and well as his support for gay rights.
"I believe in gay rights and gay marriage. Those are my views and it is no secret."
Watch the full speech here:
https://www.youtube.com/watch?t=1&v=_fOPBIc56gU
E.J. Dionne, Jr., columnist for The Washington Post, spoke with Ari Melber on The Rachel Maddow Show about Sanders' visit to Liberty U.: