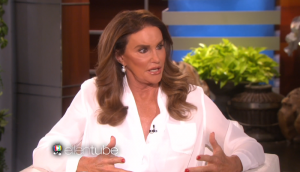 Caitlyn Jenner sat down with Ellen for her first talk show appearance since coming out as transgender.
Jenner spoke of her struggles while closeted, her family's reaction to the news, and who the hardest to come out to was. Perhaps the most revealing part of the interview though came when Ellen brought up Jenner's conservative political views and asked how the former Olympian could support the Republican Party in light of the fact that many GOP politicians are opposed to trans rights and same-sex marriage.
Responded Jenner:
I have to admit – I remember 15 years ago, 20 years ago whenever it was when the whole gay marriage issue came up – at first I was not for it. I mean I thought I'm a traditionalist. I'm older than most people in the audience. I kind of like tradition and it's always been a man and a woman. And I'm thinking I don't quite get it. But as time has gone on, I think like a lot of people on this issue have really changed their thinking here to I don't ever want to stand in front of anybody's happiness. That's not my job.
Like Caitlyn Jenner? Click HERE and LIKE our page on Facebook. Select "get notifications" in pulldown menu to receive our headlines in your feed.