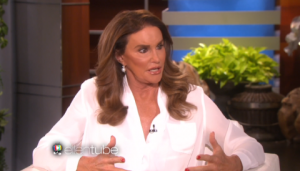 Earlier this month, Caitlyn Jenner caused quite a stir when she appeared on Ellen DeGeneres' show and came across as a less-than-enthusiastic supporter of marriage equality despite being a member of the LGBT community.
Said Jenner in the interview:
I have to admit – I remember 15 years ago, 20 years ago whenever it was when the whole gay marriage issue came up – at first I was not for it. I mean I thought I'm a traditionalist. I'm older than most people in the audience. I kind of like tradition and it's always been a man and a woman. And I'm thinking I don't quite get it. But as time has gone on, I think like a lot of people on this issue have really changed their thinking here to I don't ever want to stand in front of anybody's happiness. That's not my job. If that word "marriage" is really really that important to you, I can go with it.
When Ellen pointed out that the former Olympian still seemed a little "not on board with it," Jenner replied:
No I'm on board. I mean, it's going to be pretty much the law of the land. I still feel like yeah I'm okay with that.
Here's the clip if you missed it:
https://www.youtube.com/watch?v=_n8QskfvUfg
Ellen later spoke about Jenner's comments in a sit-down on The Howard Stern Show:
Kardashian family friend Lance Bass also weighed in:
Now Jenner has made an effort to clarify her comments in a blog post reflecting on the season end of I Am Cait and her journey so far:
While I'm far from perfect and will make some mistakes along the way, I've made it my life goal to help the wonderful people in this community. Trans rights are about 30 years behind gay rights (and look at the incredible progress we've made there!). We've got a lot more work to do in the trans community, but we're getting closer. As Chandi reminds me, "We have to save one soul at a time."
I want to help each of you understand something that I only recently embraced: Being different is okay – in fact, it's great! But I also understand it takes some getting used to. Like many people, there was a time when I didn't realize how important it is for gay couples to have the right to get married. But after hearing from my gay friends and learning more about the hardships they faced because of discrimination, it became clear to me that everyone should be able to marry the person they love. I can only hope that by sharing my story, there's someone out there whose mind has been changed about trans people.
Because regardless of whether you are transgender or not, we all have stuff to deal with in our lives. To have the courage to overcome obstacles and be your authentic self is an amazing process to go through. I want you to believe in yourself and know that you can deal with it. You can be okay.