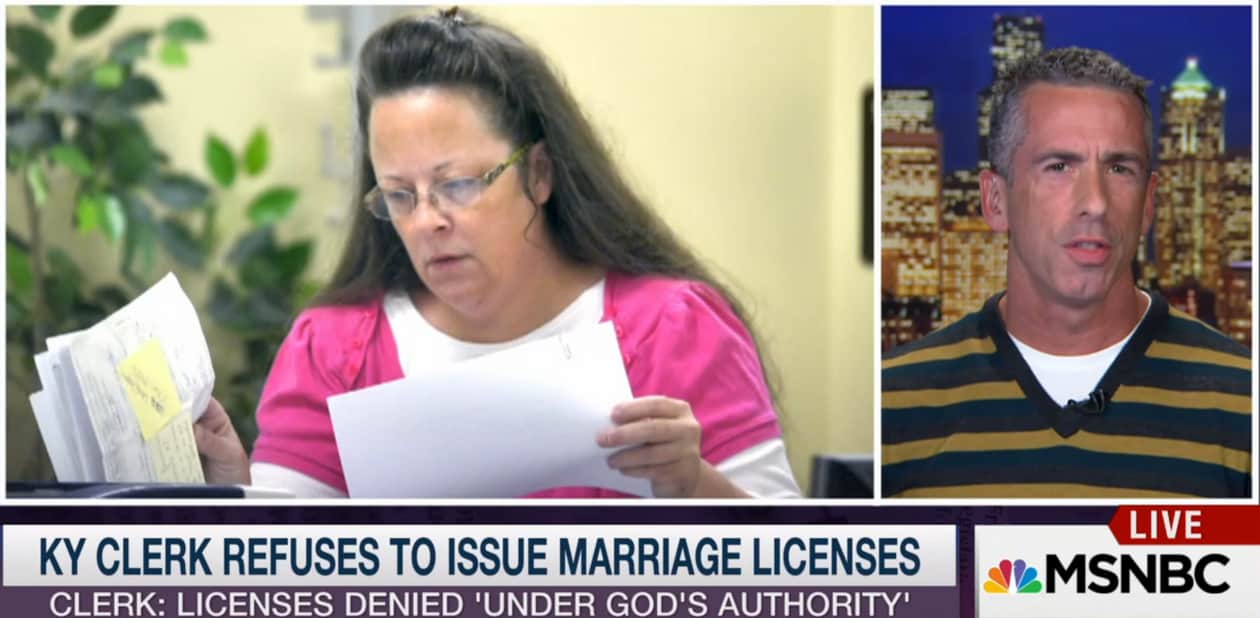 Dan Savage spoke with Alex Wagner last night on The Last Word about anti-gay Kentucky clerk Kim Davis, saying that Davis wants to be a martyr and that she is opportunistically cashing in on her hypocrisy.
On Davis' refusal to dole out marriage licenses to same-sex couples and her claim that her so-called religious liberty is at stake, Savage said,
"[Davis is] being asked to administer the law. She's not being asked to perform a sacrament. She is not a minister. She thinks she works for God there, in the county courthouse, when in fact she works for Caesar. And someone needs to acquaint her with that fact."
READ all of Towleroad's Kim Davis coverage HERE.
Savage went on to comment that Davis is "cashing in" on her opposition to same-sex marriage by positioning herself as a right-wing darling that will get lucrative book deals and speaking arrangements because of her status as a 'celebrity' anti-gay activist.
Savage also called Davis a hypocrite, referencing a report from US News and World Report about Davis' four marriages and her, shall we say, complicated timeline when it comes to the fathering of her children:
"[Davis] said today…'I never imagined a day like this would come where I would be asked to violate a central teaching of scripture and of Jesus himself regarding marriage.' This is a woman who has been divorced three times and married four times and I'm going to read this too: 'She gave birth to twins five months after divorcing her first husband. They were fathered by her third husband but adopted by her second husband.' She's now onto her fourth husband. Jesus Christ himself in scripture condemns divorce, calls it adultery and forbids it. Jesus Christ himself in scripture says not one word about same-sex marriage."
Watch below: