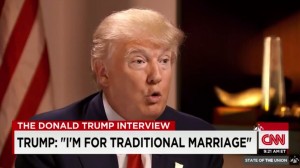 Speaking with MSNBC's Morning Joe crew Friday, GOP frontrunner Donald Trump was asked to give his thoughts on the Kim Davis drama in Kentucky.
Said Trump:
"I would say the simple answer is let her clerks do it. Now from what I understand she's not letting the clerks do it either. The other simple answer is rather than going through this — because it's really a very, very sticky situation and terrible situation — 30 miles away they have other places, they have many other places where you get licensed. And you have them actually quite nearby, that's another alternative."
Trump added that he hates to see Davis in jail but the "decision's been made, and that is the law of the land."
"You have to go with it," he said.
Presidential longshot Bobby Jindal wasn't pleased with Trump's answer, Tweeting out:
Hey @realDonaldTrump you can't make America great again by throwing the Christians in jail. (1/3)

— Gov. Bobby Jindal (@BobbyJindal) September 4, 2015
.@realDonaldTrump I understand asking forgiveness from God and respecting communion is a personal decision. (2/3)

— Gov. Bobby Jindal (@BobbyJindal) September 4, 2015
But even really rich New Yorkers should oppose jailing Christians for their religious beliefs. (3/3)

— Gov. Bobby Jindal (@BobbyJindal) September 4, 2015