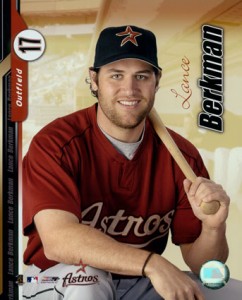 Former outfielder for the Houston Astros Lance Berkman has come out against his city's proposed equal rights ordinance that would extend LGBT non-discrimination protections to individuals.
"I played professional baseball for 15  years, but my family is more important. My wife and I have four daughters," says Berkman in the new radio spot. "Proposition 1, the bathroom ordinance, would allow troubled men to enter women's public bathrooms, showers and locker rooms. This would violate their privacy and put them in harm's way."
As Matt Baume has explained in the past, the argument that Berkman brings up is rooted in fear, not reality.
Outsports Cyd Ziegler, meanwhile, has made his disappointment with Berkman's position known:
Of course, what the ordinance actually does is open public accommodations to trans people. Berkman and his homophobic and transphobic cohorts are locking onto this image of same crazed vagabond wandering into a women's bathroom and raping them.
It's a disgusting display of ignorance and intolerance, and it's a shame that someone of Berkman's stature would use his name and voice to further marginalize at-risk trans youth.
Watch Berkman discuss why he's speaking out against the ordinance in the video below.