An Oregon circuit judge and former chairman of the state Republican Party is under state investigation after refusing to perform same-sex marriages.
Oregon's KGW reports Judge Vance Day (pictured) is citing "deeply-held religious beliefs" in his refusal.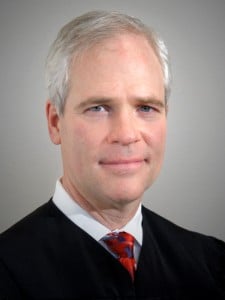 Spokesman Patrick Korten said Day instructed his staff to tell couples that the judge will not perform same-sex marriages. The staffers were instructed to refer same-sex couples to other Marion County judges willing to issue them a marriage license. […]
Day hasn't performed any same-sex marriages since he joined the bench in 2011, but only stopped doing marriages of any kind this past spring. Judges in Marion County are not required to perform marriages, and Marion County's website lists five active judges and one retired judge who are available for marriage ceremonies.
That decision led to an ethics investigation by the Oregon Commission on Judicial Fitness, Korten said.
The Oregonian adds:
The Oregon Government Ethics Commission voted unanimously Thursday to approve Day's request to establish a legal defense fund.
Day noted in an affidavit signed Aug. 19 that he was seeking to establish the fund to defray legal expenses in connection with inquiries by the Oregon Commission on Judicial Fitness and Disability involving allegations of violations of the Oregon Code of Judicial Conduct and the Oregon Constitution.
"These legal expenses arose by virtue of, and were related to, my service as an Oregon Circuit Judge," Day wrote in the affidavit.
Watch a KGW news report on the story below: