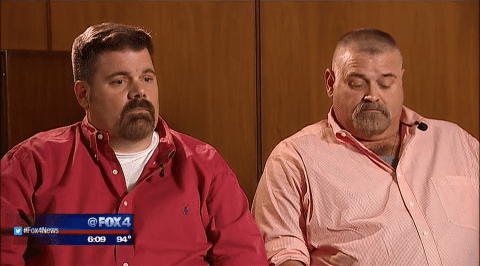 A chef at a Dallas-area Hilton hotel who allegedly refused to cater a gay couple's wedding no longer works at the property.
Jenny Hansen, a spokeswoman for Magnolia Lodging, which manages the Hilton Garden Inn in Richardson, would not say whether the chef's departure was voluntary.
"I can confirm the chef is no longer employed by the hotel or our company," Hansen told Towleroad, adding that she was unsure when the separation occurred.
Last week, we told you how a gay couple, Daren Merchant and Rick O'Connor, planned to hold their wedding at the Hilton Garden Inn on New Year's Day. However, their plans hit a snag when Merchant's daughter, who worked at the hotel, overheard the chef saying he wouldn't cater the event. The chef allegedly said same-sex marriage would lead to the apocalypse and compared the men to Caitlyn Jenner.
Magnolia Lodging has also since issued the following statement about the incident, saying it hired a third-party consultant to investigate but was unable to substantiate the allegations:
"As an award-winning hotel, our success is based upon the satisfaction of our guests; we want everyone who visits to not only enjoy their stay, but to return in the future.
"An accusation of a vicious rumor directed toward a guest, allegedly made by a staff member, surfaced last month. We do not tolerate discrimination of any kind at this hotel, or any other Magnolia Lodging property, and in accordance with our company policy, promptly launched an internal investigation with a third-party human resources consultant. While we were unable to substantiate the rumor, we understand that this situation has caused extensive grief and stress for the guest, and the LGBT community. We welcome everyone to our hotel, and emphasize that we have zero tolerance for any discrimination of guests or staff.
"As of August 28, 2015, an in-depth conversation with the guest has occurred, and we have extended a special invitation to him to host his event with us as originally planned, and will work to ensure they are accommodated. We are in the business of providing exceptional service and hospitality to everyone who walks through our doors, and will continue to do so."
Merchant provided this update:
"I was contacted by the Texas Hotel and Lodging Association. They were asked to contact me on behalf of the property owners. We had a long conversation about the hotel's account of what happened and my account. There were a few discrepancies that we worked out. I was assured that the chef would not be working there but was not given a timeline on his departure. I was left with the impression that the chef was being dismissed but have also heard that he gave notice. Unsure which story is correct. I was told that the hotel was willing to offer me the original discount that had been discussed with their event planner, plus an additional discount, and that the hotel would be very happy to still host the event. I told him that I would discuss it with Rick and get back to them. To be honest, this all sounded like damage control, which I understand, and the gentleman who called me was nothing but professional and as forthcoming as he could be with the information he had. He is not affiliated wit the hotel in any way. During my discussion with Rick, we both brought up concerns we still had. First and foremost, do we still want to have the event at a property that tarnished a day that was to be one of the greatest days of our lives? There is also the concern of the hotel living up to its promises and treating the wedding party and guests professional and respectfully. Of course, the discount would be a great help since we are on a tight budget but is it worth the emotional strain it could cause?"
He added that the couple still hasn't decided whether to accept the hotel's offer and is considering putting off their wedding altogether:
"We picked New Year's because we met on 12/31/91 and we were celebrating Christmas on New Year's this year, so everyone would be home and there would not be more travel expense during the year. It's just a pain in the ass now and almost not worth it."