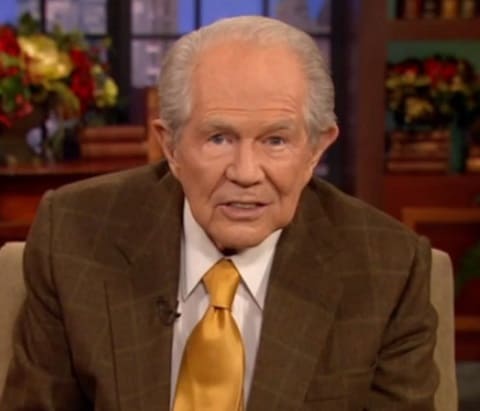 Ramping up the regular smiting levels meted out by his Creator, Pat Robertson says that same-sex marriage will make the Supreme Sky Fairy so angry that it will lead to the end of the entire world economy, reports Right Wing Watch.
Defending recently jailed Kentucky official Kim Davis and lamenting the fact that gay people are no longer seen as "an aberration," sex-obsessed Robertson said:
"The thought of two homosexuals marrying one another was just undreamed of, we couldn't even conceive of it. And now the Supreme Court of the United States has said that this is a constitutional right and, in the process, they are upending the traditions of thousands of years of the Judeo-Christian faith."
"God Almighty is looking down on this nation and, folks, I want to tell you that our finances right now are hanging by a thread, the rupture of the entire financial framework of our world is so tenuous right now and if there is was ever a time that we need the grace of God, it is now. And unless something is done to change the courts and to change the way this country is going, it is just a question of time before the fabric ruptures and we'll all suffer because of it."
Watch Robertson quaking in his boots below.
https://youtu.be/bs9LGRzEw1o