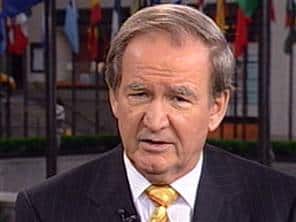 Former MSNBC host, failed presidential candidate, and longtime "culture warrior" Pat Buchanan appeared on Newsmax TV yesterday and proudly compared Kim Davis' anti-gay crusade with his own fight against school desegregation in the 1970s.
Right Wing Watch reports:
Host Rick Ungar asked Buchanan to explain why he would oppose a devout Muslim becoming president out of fear that his or her religion would trump the Constitution, when Mike Huckabee and other GOP candidates frequently say that their Christian religion trumps U.S. law.
Buchanan responded that there were plenty of examples of people rightly following "natural law" rather than obeying the courts, such as protesters in the Civil Rights Movement. He added that his father, a devout Catholic, would likewise have disobeyed a law requiring him to provide "abortifacients and contraceptives to his employees."
Buchanan added that he himself had advocated civil disobedience when he urged President Nixon to defy a 1971 Supreme Court decision that "called for district-wide desegregation and allowed for the use of busing to achieve integration."
This isn't the first time Buchanan has called for "civil disobedience" to fight same-sex marriage. Last year, he wrote that the Supreme Court's pro-equality rulings were part of its wider agenda imposing the religion of "secular humanism" on the American public.
https://www.youtube.com/watch?v=bAJiiwXX-FA