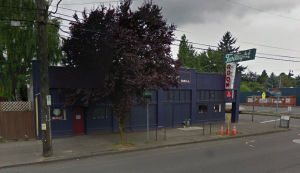 A Portland bar owner has been ordered to pay $400,000 in damages after telling a group of transgender patrons in 2012 not to come back because he feared other customers would think it was a "tranny bar" or "gay bar."
On Wednesday, the Oregon Court of Appeals upheld a lower ruling that the owner violated LGBT discrimination protections under the Oregon Equality Act of 2007.
NBC News reports:
In 2012, Chris Penner, owner of a bar formerly known as the P Club, left two voice messages for a member of the Rose City T-Girls, an informal group of transgender customers that frequented the bar every Friday night. The messages said to stop visiting because business had declined in the 18 months since the bar became the group's gathering spot.
Penner said people were incorrectly assuming the P Club was a gay bar or "tranny" bar. "People are not coming in because they just don't want to be there on a Friday night now," he said in one message. "In the beginning sales were doing fine, but they've been on a steady decrease so I have to look at what the problem is, what the reason is and take care of it."
Penner's attorney, Jonathan Radmacher, said his client might continue the legal fight. He said Penner merely expressed a desire and did not refuse service to anyone who came to the bar, drawing a contrast with bakeries that have declined to make cakes for same-sex weddings.
OregonLive adds:
The labor bureau's Civil Rights Division began investigating and found no evidence to support Penner's contention that the T-Girls disrupted business.
Instead, the bureau found substantial evidence of discrimination and tried to reach a settlement with Penner. When none was reached, Avakian took the case to a hearing.
Penner closed the Twilight Room Annex in April 2014 and laid off five employees after his bank accounts were seized in connection with the $400,000 judgment. The state also imposed $3,000 in civil penalties on Blachana and $2,000 on Penner.
Since Jan. 1, 2008, when the Equality Act took effect, the state labor bureau has received 24 complaints, only a handful of which have advanced to a hearing or remain under investigation. The majority of cases were closed for lack of substantial evidence, withdrawn because of a settlement or taken to state or federal court.