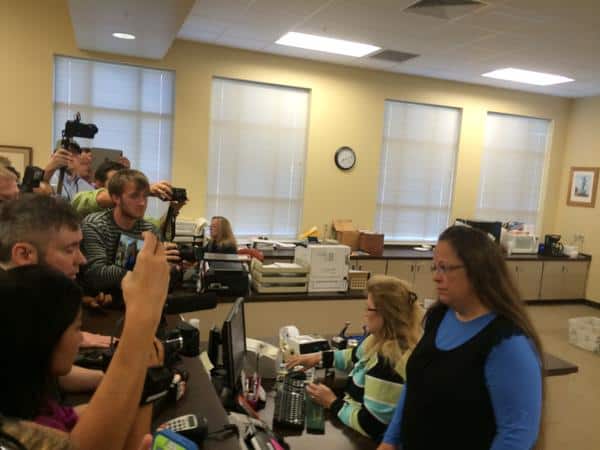 Two gay couples along with the ACLU have filed a motion in federal court on Tuesday, asking that Rowan County, Kentucky clerk Kim Davis be held in contempt for refusing to same-sex couples.
The motion asked that Davis be fined but stopped short of asking for jail time.
Two gay couples have asked a federal judge to punish a Kentucky clerk who has refused to issue them marriage licenses by fining her, but not sending her to jail.
Lawyers for the couples filed the motion to hold Rowan County clerk Kim Davis in contempt of court on Tuesday morning, shortly after her office refused again to issue the licenses — this time despite a U.S. Supreme Court ruling against her.
Davis says her office is doing so "under God's authority."
The latest motion in the case asks U.S. District Judge David Bunning to hold Davis in contempt. Bunning will probably hold a hearing for the gay couples to present evidence, which could include testimony from Davis herself. Bunning would then decide on punishment. That could include fines, jail time or both, but the motion asks the judge to impose only financial penalties.
Read the motion below:
davis_ky_20150901 by towleroad
UPDATE: A hearing has reportedly been set for September 3 to review the contempt issue.
I'm told a judge has set a hearing for Sept. 3 at 11 in Ashland for the motion to hold Davis in contempt. #WSAZ

— Dan Griffin FOX 13 (@DG_Reports) September 1, 2015