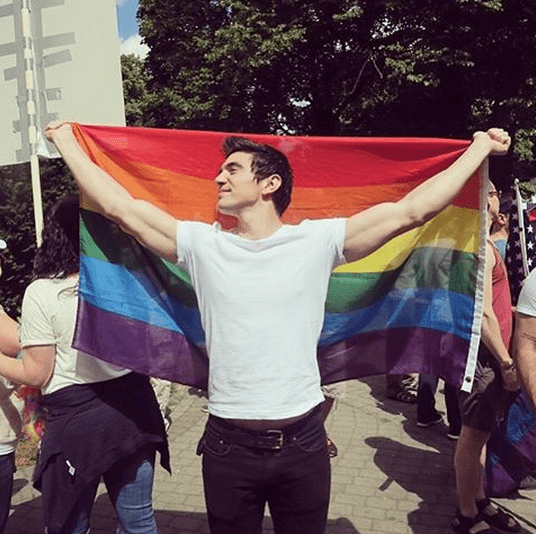 Steve Grand appeared on San Diego local news over the weekend to promote an upcoming performance of his. However, one of the news anchors interviewing him may have failed to go over her notes prior to chatting up the 'All-American Boy.'
Grand was on air talking about the inspiration behind his songs when one of the anchors asked if break-ups were a particular source of inspiration for his songwriting, adding, "Poor women who date you, right?"
Grand was a bit caught off guard but was quick to correct that poor woman who didn't get the memo that Steve likes dudes: "Uh, no, I'm gay, so yeah, they're, uh, it's guys. But it's all the same really. It's about the human experience." Grand went even further, using the awkward moment to talk about the importance of writing songs about gay love (which isn't that different than, you know, love sans qualifier):
"I think that it's good that people hear me and they may not even realize that I'm singing about guys" he adds. "And I think that is a testament to the fact that we do really all love the same, we lose the same, we feel heartache the same and that's what it's all about."
The other (more in the know) anchor then asked Grand about his invitation to the Marine Corps Ball from a gay male marine. Said Grand,
"I was really touched by him asking me. I don't think I've got an invitation like that before".
Grand also wrote about the exchange over his sexuality on Facebook:
I used the opportunity to talk about how no matter who we love, as humans, we all love the same… That our experiences are far more alike than different… Love is a human experience, not specified to one sexual orientation or another… etc.
Immediately after that, the news woman to my right asked about being asked to the Marine Corps ball… by a man.
As soon as we cut the segment I burst out laughing and let the woman know it was all okay.
I understand they are meeting new people every couple of minutes and are expected to entertain and engage audiences all over the state so I don't post this at all as a criticism.
He also ended the posted with: "#StayClassySanDiego."
Watch the awk-a-awesome video, below: