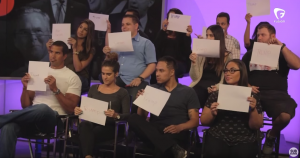 It may be too soon to say, but Donald Trump's poorly received debate performance last night *might* be the beginning of the end for the billionaire blowhard.
Ahead of the GOP debate, Fusion gathered together a group of 18- to 34-year-old Republican voters to gauge their reactions to the right-wing slugfest.
Here's the breakdown:
Before the prime time showdown got underway, 10 of 12 focus group participants said they were leaning toward Donald Trump. After the debate, four had changed their positions, with two leaning toward Carly Fiorina and the other two undecided but leaning toward Marco Rubio and Jeb Bush. The remaining two participants supported Ben Carson and did not change their minds. […]
A number of participants felt that Fiorina had one of the strongest debate performances. Yet when asked if any of them thought that it was important to see a woman become president in their lifetime, none of the twelve young Republicans raised their hands.
The focus group participants were also asked "which candidate understands you the most," what the GOP should be doing to get more young people engaged, and what they thought of Jeb Bush's admission that he smoked pot 40 years ago.
Find out their responses in the revealing video below: