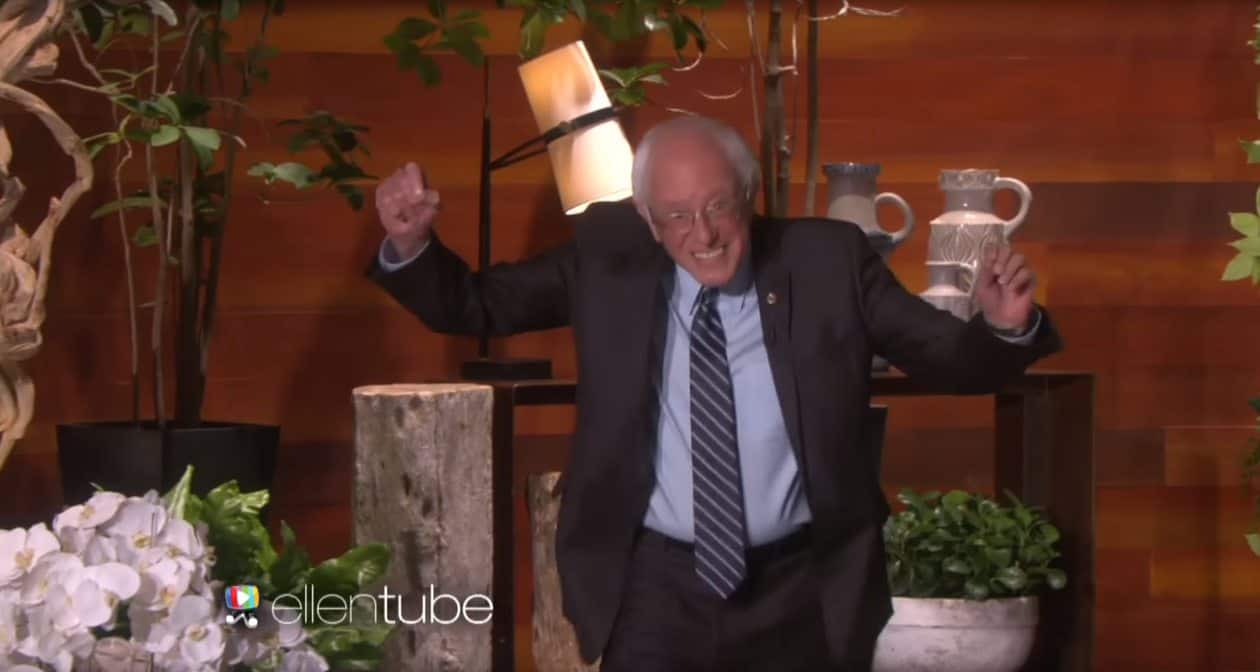 Bernie Sanders appeared on The Ellen Show today and put to rest questions of whether he would join in the daytime talkshow host's favorite pastime: dancing. Dance, he did, and to the tune of "Disco Inferno" no less.
Bern, baby, Bern.
Presidential candidate @BernieSanders​ is ready for his entrance onto my show.https://t.co/cxVVL68hzJ

— Ellen DeGeneres (@TheEllenShow) October 15, 2015
The interview with Ellen was meant to show off Sanders' softer side. NPR reports on some of the hot topics the pair touched on:
— What Republican presidential candidate he'd want to be stuck on a deserted island with. After a long pause, he said, "Marco Rubio; he's used to the sun." Rubio's from Florida.
— If he was a flavor of Ben & Jerry's ice cream (based in Burlington, Vt., where Sanders is from), what would he be called? "Burn, Bernie, Burn." "So, it would be hot and spicy ice cream?" DeGeneres joked.
— Whether he had ever been in handcuffs. "Yes," he said quickly, before pausing and following up, "I don't know exactly what you mean by that." Well, then. "When I was young, I was involved in a civil rights demonstration, and I was arrested," Sanders clarified. "All right, let's call it a civil-rights demonstration," DeGeneres quipped.
Watch Sanders dance and chat with Ellen, below: