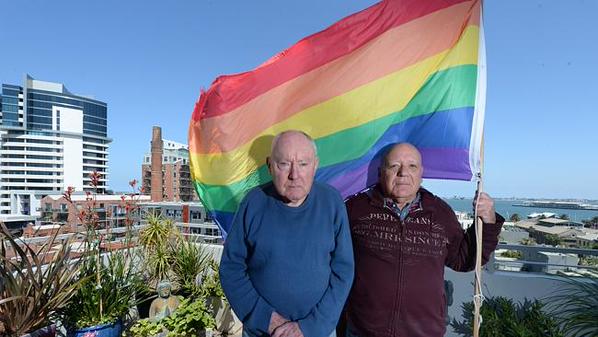 An elderly gay couple in Melbourne, Australia has been threatened with legal action if they fail to remove a rainbow flag from their apartment balcony.
According to The Age, Former interior designers Murray Sheldrick (78) and James Bellia (72) received an email from the apartment management company warning that they were in breach of rules affecting the "peaceful enjoyment" of the other residents by displaying "advertising material."
Sheldrick and Bellia, a couple of 50 years, said they displayed the flag on special occasions including Australia Day.
According to Bellia there is "no doubt" that the demand was homophobic.
Justin Koonin, convenor of the Gay and Lesbian Rights Lobby, said:
"There is no legal or moral justification for preventing people from being proud of who they are.
"Elderly LGBTI people in particular have suffered discrimination and invisibility for many years, often decades. This is not caused by their identity, but by living in a society which does not accept their identity."
Colin Biggers & Paisley litigation lawyer, Daniel Creasey, who offered the couple pro bono legal advice, said if the management company was found to have breached regulations in court, it could face costs.
However, Sheldrick said he and Bellia have no plans to pursue the case because they "can't be bothered with the trauma."
A petition has been set up to have the flag reinstated.
(Photo via Twitter)