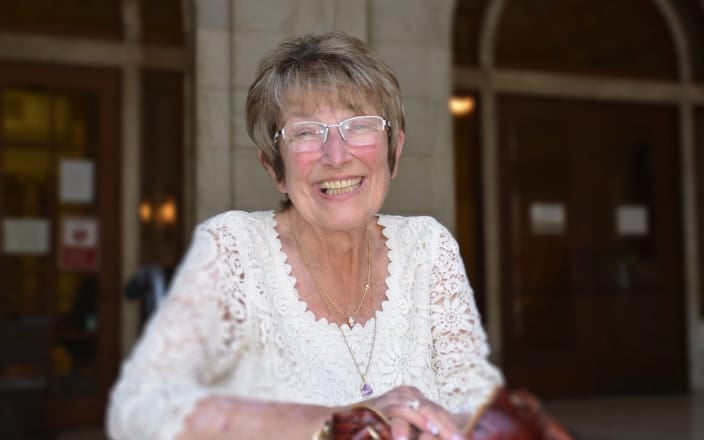 Supporters of Arkansas attorney Cheryl Maples have launched an Indiegogo campaign after Circuit Judge Chris Piazza awarded her what they say is an inadequate sum for the work she did representing more than three dozen plaintiffs over three years in the state's marriage equality case.
[Piazza] awarded $30,000 in fees and $3,000 expenses each to the Wagoner Law Firm and Cheryl Maples. They had sought much more — Maples at least $345,000 and Wagoner at least $95,748, though both had also asked for enhancements to normal fees that are allowed at times for meritorious civil rights claims.
Maples filed the state suit and Wagoner joined her not long after the case was filed. He also filed a separate lawsuit in federal court, which also produced a decision striking down the ban. A fee request is pending in that case as well.
Wagoner and Maples have become adversaries in the fee proceeding. The state and Wagoner questioned the amount of Maples' billing, saying it was excessive. Maples has said Wagoner was unhappy because some of the plaintiffs in the state case fired him as their attorney.
Piazza joked that he needed Maalox to read all the pleadings, but took no new evidence at the hearing. He said the lawyers had done an immense amount of work on the case, but he thought the fees they'd sought were too much.
Maples reportedly wept after the proceedings:
"I devoted over three years of my life almost full time, and I thought it was worth more than that. So I'm disappointed. I could have done better at McDonald's, slinging hamburgers, for less than $15,000 a year…I went through our savings. My husband is retired, and we lived off of our savings….I was so proud, and I'm still proud. [But it's not right to be financially ruined] when there's a federal statute that says there's got to be a good reason not to award a fair attorney fee. There's got to be a reason."
Write supporters on her Indiegogo page, which has collected approximately $2,300 so far:
Cheryl Maples represented over 40 plaintiffs in the marriage-equality case in Arkansas for approximately 3 years.  She used her life savings pursuing this passionate response to help level the playing field for the LGBT community of Arkansas.  On October 14th at around 10am she sat in her wheelchair in Judge Piazza's courtroom, the initial judge who issued the same-sex ruling in Arkansas, hoping to be reimbursed for her fees.  She was not allowed to talk or present her case as Judge Piazza had determined, in his words, that her fees were "exorbitant" and he ruled that she should only receive $33,000 for the 3 years of work and representation of over 40 people. In breaking down the order it works out to between $4-$5 per billable hour for 3 years of work.  Cheryl sat in her car after being helped from her wheelchair and wept.  Only one person from the LGBT community was present, along with her daughter, the only plaintiff present, and she said, "I have no regrets."  It's now time for us to stand by Cheryl as she has with us.