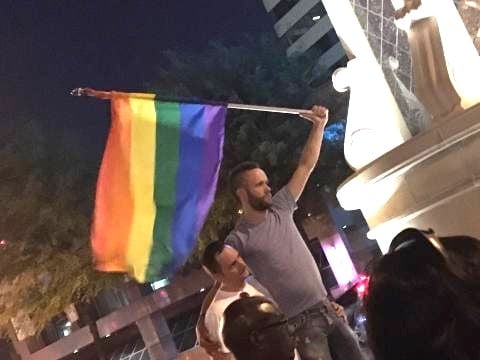 The Dallas LGBT community is on edge following three recent assaults in the city's Oak Lawn gayborhood.
On Sunday, about 100 people attended a rally in response to the attacks called, "WE ARE NOT AFRAID: LGBTQ Response to Hate" (shown above, via Facebook).
From The Dallas Morning News:
"There are those out there that want to send a message whether they intend to or not that there's no place to be safe, to be the beautiful creatures we were intended to be," organizer Daniel Cates said to the crowd, some waving rainbow flags. "There are those out there who want to send a message and they want to send it so badly that they're willing to cause us physical harm, to scare us back into our closets and to make us afraid."
During the rally, several people went up to hug Michael Dominguez as he stood in the crowd with his large dog Bambi. Dominguez is recovering from an attack on October 2, when he was knocked unconscious and stabbed in the eye, behind the ear and on his side as he walked home from Station 4, a nightclub on Cedar Springs Road.
NBCDFW.com reports that only one of the recent attacks, in which a man was beaten with a baseball bat while the perpetrators yelled anti-gay slurs following the city's Pride celebration on Sept. 20, has been classified as a hate crime by police.
In addition to the recent assaults, someone smashed out the doors of three gay bars on the Cedar Springs strip last week. However, the company that owns the bars believes the vandalism was the work of a disgruntled patron and not a hate crime.
Watch NBCDFW.com's report below.