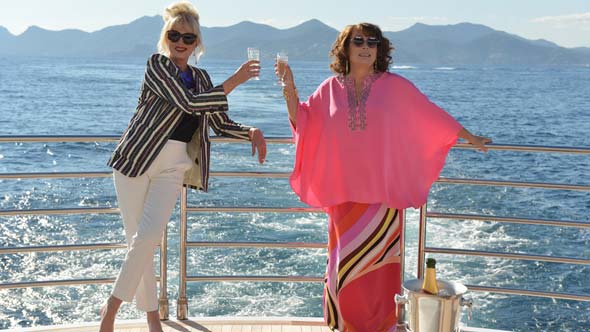 We've long been waiting for the rumored big screen debut of Edina and Patsy of Absolutely Fabulous. It was almost two years ago that Jennifer Saunders confirmed to Jonathan Ross that a feature adaptation of the popular British series was, in fact, happening. Today comes word that principal production on the film has finally begun and that Fox Searchlight and BBC Films have a released the first image (above) from the picture simply titled, Absolutely Fabulous: The Movie. 
In the movie, which is adapted from the BBC TV series, Edina and Patsy are still living the high life: shopping, drinking and clubbing their way around London's trendiest hotspots. Blamed for a major incident at an uber-fashionable launch party, they become entangled in a media storm, and are relentlessly pursued by the paparazzi. Fleeing penniless to the playground of the super-rich, the French Riviera, they hatch a plan to make their escape permanent, and live a life of luxury forever.
Director Mandie Fletcher (Black Adder, Absolutely Fabulous) helms the project penned by Saunders.