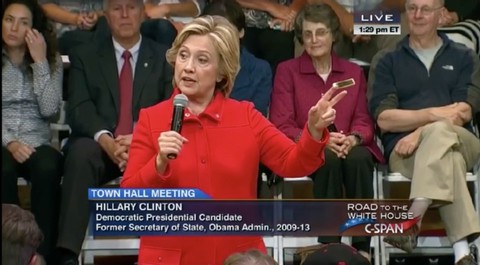 At a town hall meeting in New Hampshire on Friday, former Secretary of State Hillary Clinton addressed the "evolution" of her views on same-sex marriage, attributing the change to her "personal relationships."
Clinton made the remarks during a town hall at Keene State College in New Hampshire when responding to an attendee who identified himself as bisexual student and asked her to compare her change in position to others who remained firm in their views.
"Yes my views did evolve, and I think most people my age would say the same thing — there might be some exceptions," Clinton said. "But largely because of my strong opposition to discrimination of any sort and my personal relationships with a lot of people over the years, I certainly concluded that marriage equality should be the law of the land, and I was thrilled when the Supreme Court made it the law of the land." 
Clinton also used the subject of same-sex marriage to reiterate her support for the Equality Act, calling it her "highest priority":
"A lot of states now, because of the constitutional decision, you can get married on Saturday and get fired on Monday because we still permit discrimination in employment and in public accommodations…Marriage isn't the end of the debate, it's along the path to true equality, and you will be able to count on me to fight for you."
Clinton came out in favor of marriage equality in 2013, though as The Blade points out, she did not do so during her time as first lady, a U.S. senator from New York or as Secretary of State.
Watch video of Clinton's remarks, below: