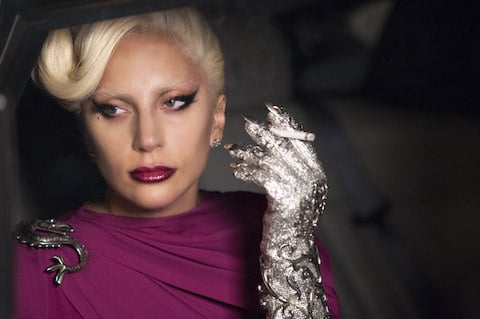 Change is certainly afoot for the American Horror Story brand. Not only does this, its fifth iteration, kick off without the star previous seasons have revolved around, Jessica Lange, but now Ryan Murphy and Brad Falchuk have their primetime, network, horror-tinged project Scream Queens to balance. It feels like a relevant counterpoint, as having Fox's campy, zeitgeisty slasher-com as an outlet seems to have freed up American Horror Story to lean into its wilder, sexier and scarier impulses.
There's plenty of shock to be found in last night's super-sized premiere, which should come as no surprise, given Murphy's latest muse, Lady Gaga. Filling in for Lange as the powerhouse central figure, Gaga has already made a career on iconic imagery, playing with many of the same elements in which AHS loves to indulge — murder, sex, queerness, blood, fashion, art and style. Her presence — and boy does she have a presence — feels like it's pushed the show even further to extremes.
There are still echoes of and direct reference to previous AHS stories. Tonally, this season already feels most akin to the first American Horror Story, known as Murder House, not only because of the contemporary Los Angeles setting, familial strife and infidelity, but also for its unapologetic sexuality. (It feels as if season one's fetish-suited Rubber Man would be right at home at the Hotel Cortez, or Dylan McDermott could be crying and masturbating around any corner.)
The promising premiere episode, "Checking In," already packed in lots of mystery around a whole new host of characters. However, I'd advise all viewers to approach with caution. If AHS has taught me anything, it's that there will be a slew of more faces and narrative threads to come courtesy of the show's ever-expanding star-studded repertory, so get ready for a wild (and likely uneven) ride.
Let's discuss where the story starting off this time in our SPOILER-filled recap, below.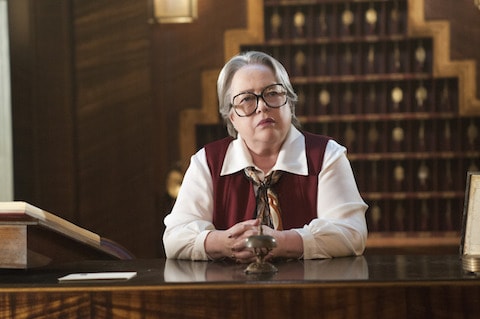 We begin with the arrival of two young, beautiful Swedish women at the Hotel Cortez. Already, they're disappointed by their hotel's location, too far away from the sights. In the lobby, they meet Iris, played by AHS-vet Kathy Bates, mercifully freed from any kind of heinous accent. She tells them their deposit is non-refundable, so they might as well stay and also — horror of horrors — the hotel has no wi-fi or cell phone signal.
It doesn't take long before things start to feel more than a little off. For starters, there are creepy children right out of The Shining running around the halls. There's a maid cleaning a massive blood stain out sheets. And then there's that smell in their room. Our plucky pair of Scandinavian sleuths trace the offending odor to the mattress, strip off the sheets and find a ragged seam sewn down the middle. Ripping it open, they find a shrieking, twisted humanoid figure, which, to me at least, still beats bedbugs.
Now, now, Iris advises, don't just go leaving the hotel yet. She convinces the girls they'll need to stay to give the police a statement. She gets them settled into another room to wait, and it's not long before one of them starts getting a little sleepy from all this excitement. When she awakes, she find some of the aforementioned creepy children with their bloody teeth sunk into her friend. Gross.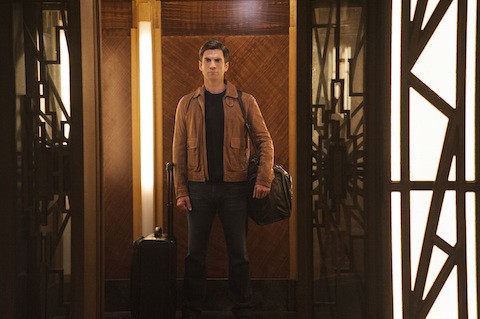 Meanwhile, across town, Detective John Lowe (Wes Bentley, mercifully freed from any kind of heinous facial hair), is investigating a grisly scene. A man, eyes gouged out, tongue removed, has his hands nailed to a headboard while his manhood appears to have been glued inside the dead woman seemingly speared through the midsection straddling him mid-coitus. Also, he's still alive and, it goes without saying, he's in a fair amount of discomfort.
Lowe is one of those gifted gumshoes, who can already tell from the scene that these two were married, but not to each other. Back in his office, he's going over another case that may be related. This one's about an Oscars blogger who got violated and bludgeoned to death by something gold. Of course, right out of the Law and Order: SVU character handbook, this hardened detective is not only working on some of the most disturbing cases, but he's also a family man. And I bet he's also the type who brings his work home, isn't he? (He is.) His chipper young daughter calls, and he drops everything to read her Little Women over video chat. As he heads out for the night, he gets a call from a menacing voice warning him that something's about to go down at the Hotel Cortez. Away we go!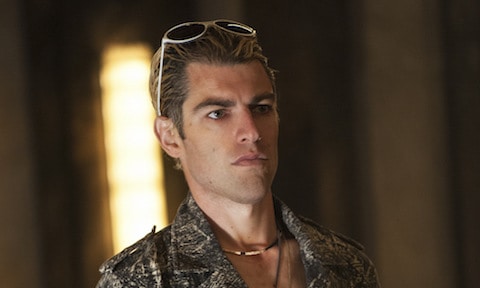 And what exactly is going on over there, anyway? Well, for starters, New Girl's Max Greenfield's character Gabriel has shown up looking like he's fresh from an audition to be the new lead singer of Jane's Addiction. Once he gets settled into his room and shoots up some heroin, he is greeted by another humanoid monster, except this one is faceless and is wearing what I can only describe as a drill bit strap-on dildo. In too much of a stupor to defend himself, Gabe is violently raped by the creature until another junkie, Sally (Sarah Paulson), arrives. She tells him to tell her he loves her, which he does, seemingly ending the assault. His eyes dilate and (maybe?) he's dead.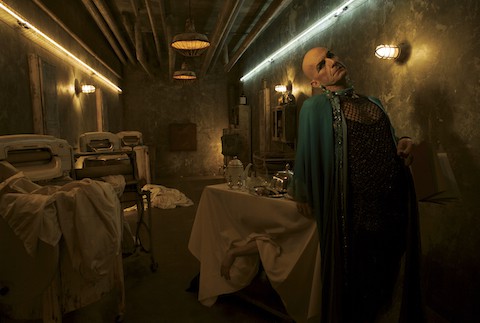 Detective Lowe arrives and Iris has my new favorite character escort him to the room his menacing phone call advised him of. His chaperone is "Liz Taylor," which really just means it's an aging, bald drag queen (Denis O'Hare) who is working an aqua colored caftan situation so fiercely that it briefly makes my little gay heart forget all about the impending arrival of Lady Gaga. When they get to the room, Lowe can't find a trace of any foul play, so he just hunkers down for a wee nap, while, unbeknownst to him, Gabriel's body lies under the bed. Gabe suddenly sputters to life (afterlife?) while the detective slumbers. Lowe awakens to a creepy child leering at him and gives chase, only to get turned around in the Cortez's labyrinthine halls.
Finally, we get to meet Gaga, portraying the Countess (though I reserve the right to just call her Gaga for the remainder of the season). She and her main squeeze, Donovan (Matt Bomer), are readying for a night on the town in their penthouse suite. Glammed out, they depart for a screening of (PAY ATTENTION!) Nosferatu. They make some goo-goo eyes, some Gaga eyes and then just straight up obscene gestures at a young, good-looking couple, luring them back to the hotel for a prolonged, wild orgy scene that culminates in Gaga and Donovan simultaneously slitting their new friends' throats and drinking their blood.
Detective Lowe is having a much less hedonistic evening. His wife, Alex — a huffy housewife played by returning AHS player Chloe Sevigny — is out to make some house calls. She's left her husband and daughter a casserole. Once she's gone, they opt instead for an adorable sushi date. Over dinner, the detective gets an urgent text message from his wife to meet her at an address. Panicked, he packs up his daughter and heads over, rushing into the darkened home, leaving his little girl with a police officer outside. Of course, it's not long before the officer is distracted, his daughter gets struck with a severe case of the stupids and she wanders inside only to find two corpses with their insides hanging outside.
Back at the Lowe homestead, it's revealed that it was not Alex who texted (ALLEGEDLY) and maybe, yeah, she is a little happy that the detective is planning on moving out now so whoever is terrorizing him doesn't target his family (which, seems a little late for that, if you ask me). She just can't look at him anymore after that thing that happened.
"What thing?" you may be asking. Well, before the Lowes were a grumbly, forlorn family of three, they were a cheerier family of four. John and Alex had taken their two children, count 'em, TWO children to the boardwalk, only for their son, Holden, to mysteriously vanish after placing him on the carousel.
Clearly neither of them have been able to move on since then. Back in the present day, John is leaving to move into the Hotel Cortez, because it'll keep his tormenter away from his family or because he's drawn there specifically or because it's just a convenient plot device.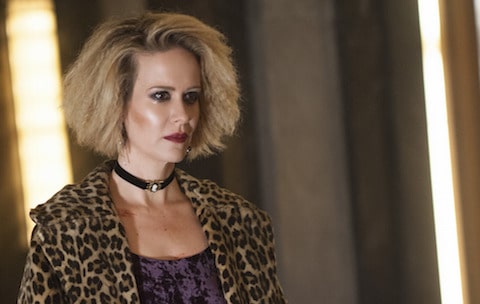 We need to make some vacancies over there, because neither of our original Swedish tourists are quite dead yet. Instead, they're being kept in iron maidens as Iris attempts to force feed them the worst smoothie of all time, packed full of vitamins, minerals and all kinds of other Gwyneth Paltrow-approved detoxifiers and whatnot. When they refuse, Sally shows up to rag on Iris a bit, provoking Iris to leave Sally in charge of getting them prepared. Instead, Sally frees one of the girls and shouts at her to run. The girl, obviously unaware that she's in a horror story, flees with the false hope that she has any chance of actually escaping. She runs smack into Gaga, who slashes her throat, killing her and making sure Iris knows that if something like this happens again, it's totally going on her performance review.
Is it just me, or did it seem like Sally and Iris had a bit of history there? Funny you should mention it! Let's flashback to the early-'90s (everyone's doing it). A younger Iris is waiting anxiously in a car as a less-glam Donovan follows an exactly-the-same looking Sally into the Cortez. Iris is his mother, and she knows they're going in there to shoot up. Sally gives Donovan his fix before Iris can intervene. By the time she gets in the room, he appears to have overdosed. Sally is like "Smell ya later!" and wanders over to to peer out the window, all hopped on China White. A devastated Iris appears and pushes her out, sending her crashing into the alley below. When Iris returns to her son's body, Gaga is with him, admiring his jawline (something we're all a little guilty of, am I right?) In the present day, there's a comment about how (PAY ATTENTION!) Iris can leave whenever she'd like, but she stays so she can see her boy.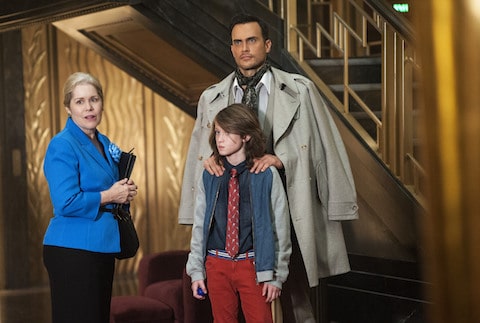 The Cortez is not quite at capacity, it would seem, as we're introduced to one more major player. This one is basically a caricature of a fashion designer played by Cheyenne Jackson, named Will Drake. He's escorted onto the property by the same real estate agent that sold the ill-fated Harmon Family their Murder House in season one, Marcy (Christine Estabrook). It appears he's bought the hotel, which rattles most of its residents, except for Gaga. She seems taken with his presence and even more interested in his young son. She escorts his boy to a secret room full of video games and candy and all the creepy children, including Detective John Lowe's lost son.
That's an awful lot to digest, and we still haven't met characters played by Naomi Campbell, Lily Rabe, Darren Criss, Emma Roberts, Finn Wittrock, Evan Peters or Angela Bassett. Our faceless, drill bit-bearing monster that attacked Grabiel is known in promotional materials as "The Addiction Demon," and it appears whomever Detective Lowe is chasing down is called "The Ten Commandments Killer." That at least partially explains the biblical references in the opening credits.
And speaking of ham-fisted references, this episode was full of them. (Or, I'm sorry, should we call them "homages?") Of course, the children in the hallways just screamed The Shining, while the Gaga as a blood-sucker reveal could not have been more obviously telegraphed by Nosferatu. (I mean, did anyone expect that four-way to end well for all parties? Does any four-way, really?) Also, I need workman's comp for how hard I rolled my eyes during this episode when "Hotel California" played. "On the nose" is a criminal understatement.
The one thing that did jump out at me as I watched the scenes with Lowe and his family is the amount of times they talked about and asked each other about eating. There were a lot of questions about what they ate, if they're hungry and what they're hungry for. It makes me think that maybe there's more to that family than meets the eye. Or, perhaps, in a season where we know addiction is a central theme, it could just be another lens through we examine different kinds of hunger. I guess, we'll find out. Or maybe we won't! You never know with one of Ryan Murphy's shows!
OK, folks, what did you think of the premiere? Sound off in the comments below.