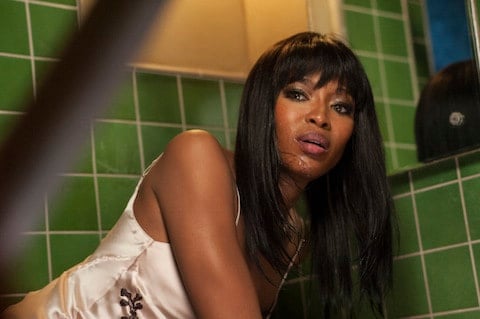 I guess I was right to expect an avalanche of storylines to wash over American Horror Story: Hotel at some point soon. Last night's exposition-heavy episode piled on character motivations and set into motion the key pieces that will propel us through at least the next few weeks.
Also, in true Ryan Murphy fashion, we got a hefty helping of mother issues in last night's episode, conveniently titled "Mommy." Between Connie Britton's Vivien in season one, Dr. Thredson's preoccupation in Asylum, Coven's relationship between Fiona (Jessica Lange) and Cordelia (Sarah Paulson), and last season's Darling clan, maternal relations have always been a cornerstone of the AHS universe. Clearly, this topic is going to be central to Hotel in a few significant ways.
Let's hide the wire hangers and dive into all the mommy issues from this week in our SPOILER-filled recap, below.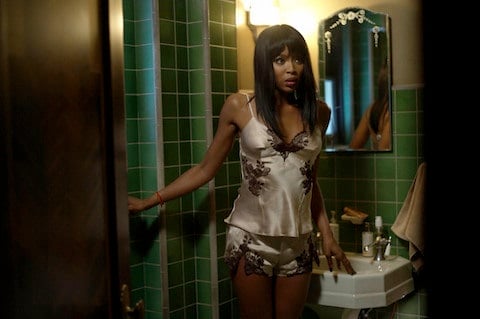 We begin with Claudia (Naomi Campbell) settling in for the night in her room. As she snuggles into bed, two hands burst from the mattress to grip her throat. She manages to free herself, but before she can escape Gabriel (Max Greenfield) stabs her a whole bunch, killing her and splattering blood everywhere.
He races toward the exit only to run smack into Detective John Lowe (Wes Bentley). The kindly detective rushes Gabe to the hospital, assuming he's overdosing, but the doctors tell him that it looks more like withdrawals, and, p.s., that blood he's covered in isn't his. Gabriel manages to tell John that he didn't mean to kill "her" before appearing to flatline.
You don't have to be a detective for that last line and all the blood to give you something of a hunch, so John returns to the Cortez to investigate. Unfortunately, Miss Evers (Mare Winningham) has already tidied up the murder scene. Of course, Sally (Sarah Paulson) is hanging around, eager to taunt the detective. He's got no time for her nonsense, especially after Gabriel muttered something about her involvement, and then she starts dropping Ten Commandments references. Not quite sure that's probable cause enough to arrest her, but Lowe cuffs her anyway. In the elevator down, she seduces him, not allowing those handcuffs to hamper her ability to attempt a handy. Before this can go any further, the elevator reaches the lobby, and Sally has disappeared. Spooky!
That's hardly the worst of Lowe's troubles this week. That Ten Commandments Killer case is getting even more gruesome. This time, it's a gossip website staff that's been brutally slaughtered, their tongues nailed to their desks for bearing false witness. (Whoa, Ryan, what do you have against bloggers? Between this and the Oscars blogger that had a statue stuffed where the sun don't shine, should I be concerned?) Then again, work might be a nice escape from John's strained home life.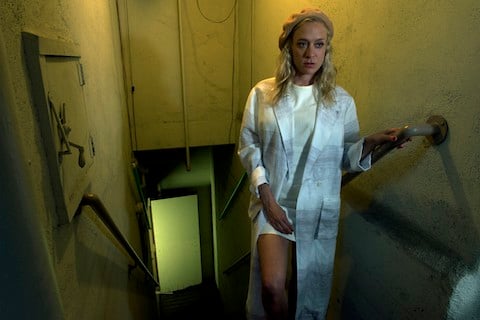 His wife, Alex (Chloe Sevigny), is so sad all the time. First of all, measles kid from last week is taking a turn for the worse and needs to be hospitalized. Plus, she's really still struggling to cope with the loss of her son. We get a flashback to his birth and the amount of absolute adoration Alex had for young Holden (Lennon Henry). She confesses via voiceover that she loved him more than her husband and even more than her daughter, Scarlett (Shree Crooks). When he went missing, it destroyed her. She can still remember how he smelled like fresh lavender.
Flash forward to present day, and the entire Lowe clan is in family therapy. Scarlett is still insisting she saw him in the hotel, but the therapist feels like she's just making up this story to ease her parents' grief. But when Scarlett mentions how he smelled of lavender, you can tell Alex's interest is piqued.
The matriarch of the Lowe family later arrives at the Hotel Cortez to drop off some divorce papers for John. He becomes hysterical, and she escorts him to his room. On her way out, first she sees a bloody Claudia standing in the hallway. Then, finally, she sees him. Holden is at the end of the hall, and it's so tense watching her walk toward him. Is he really there? Would he run away before she got to him? No. She kneels right in front of him, he looks up and says "Hi, mommy." Yay?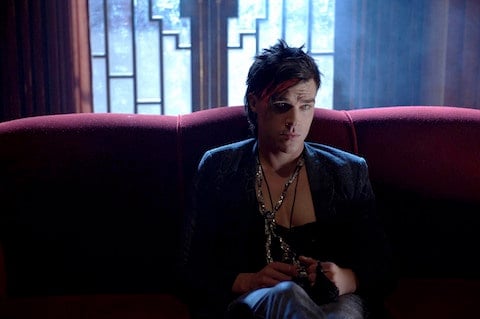 She might not want to hang around the hotel too much. Tristan (Finn Wittrock) has sought out James Patrick March (Evan Peters) for some more advice on his new favorite hobby, killing people. He certainly came to the right place. Not only because March is such a twisted psychopath, but because he knows all the little tricks and traps built into the Cortez. Take, for example, the black closet. It's a dark room with a large spike through the middle, perfect to push people into for the stabby-stabby. This sounds so, so fun for Tristan, who sets his sights on Will Drake (Cheyenne Jackson).
First, he tries to seduce the gay designer. That seems to work, but before he can finish him off, (and by that I mean murder him, just to be clear), he catches Gaga out of the corner of his eye. She signals him to spare Drake.
Turns out, she's got a plan for him. It involves somehow convincing him to marry her and then taking all his money. She lost her empire to Bernie Madoff's Ponzi scheme, and someone needs to foot the bill for all those turbans, you know? Gaga's got some magic vampire vajayjay, because despite Will's insistence that he only swings one way, she manages to get a, um, rise out of him regardless. This likely won't end well for him.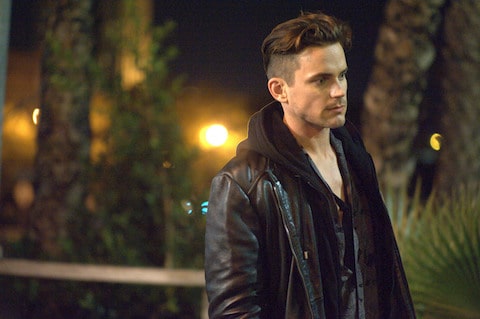 While Gaga and Tristan giddily scheme together, her ex Donovan (Matt Bomer) is on the streets, killing junkies and drinking their blood. That's where he meets the latest addition to our ever-expanding cast of characters, Ramona Royale (Angela Bassett). A former star of Blaxsploitation films, the B-movie star was Gaga's lover from the late '70s into the early '90s. Gaga turned her, but could never commit to Ramona. Eventually Ramona fell for a rising rap superstar in the early '90s. Their love was deep and powerful, and Ramona wanted it to last forever. That's why she gave him the virus. This displeased Gaga. So the Countess massacred the rapper and his whole entourage. Now, Ramona wants her revenge. Not by killing Donovan, but by murdering all of Gaga's "children."
Donovan tells her that he's probably not the best bait or the best mole, considering Gaga dumped him, so Ramona sets him free. He heads back to the Cortez, where Elizabeth Taylor (Denis O'Hare) gives him a tongue lashing for being so mean to his mother, Iris (Kathy Bates) earlier on. Liz has a point; he was pretty cruel. First, Donovan laid into her for being such a bad mom, then he whined about how she threw out his dad and finally for having Gaga bring him back to life when all he wanted to do was die. If her whole reason for living is him, he tells her, she should just kill herself.
Not a bad idea, thinks Iris. She recruits Sally to help carry out the deed. First, Sally wants to know if she has any unfinished business, so she doesn't haunt the halls. No? Great. Now she just needs to roll her sleeves on up so Sally can shoot her up with a lethal dose of heroin. When that fails, Sally slips a bag over Iris' head, suffocating her.
Mirroring his own death, Donovan rushes in. Once he realizes she's gone, he cuts himself open and gives her the virus.
Gaga will not like this at all.
What did you think of the episode? Share your thoughts in the comments!