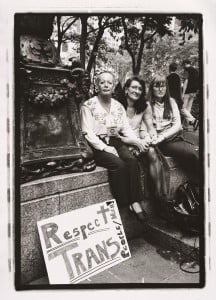 HISTORY: Stonewall icon Sylvia Rivera becomes first trans person to have portrait in the Smithsonian's National Portrait Gallery: "Rivera's portrait was installed in the National Portrait Gallery's "Struggle for Justice" exhibition at the beginning of October as part of the gallery's paper rotation, according to a museum spokeswoman. In the portrait, which was captured by Puerto Rican photographer Luis Carle, Rivera is seen holding the hands of her partner Julia Murray and activist Christina Hayworth on the Saturday before New York City's 2000 gay pride parade. At their feet is a hand-written poster that reads, 'Respect trans people/men!'"
MUPPETS: Miss Piggy and Reese Witherspoon heal their bad blood over some rap music. 
HOUSTON: NYT Op-Ed comes for anti-LGBT bigots in Houston: "No one has ever documented a case of a young person being traumatized in a public bathroom in this way; and as for the second concern, rape is already against the law everywhere. But no one can say religious conservatives aren't imaginative troubleshooters. … A weary city longs for relief, many agreeing with the burly, bearded transgender male cowboy who posted a sad selfie of himself trapped in a ladies' restroom."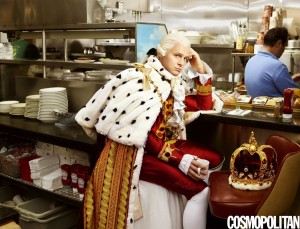 SISSY THAT WALK: Beyoncé wants to steal Jonathan Groff's walk: "1) Beyonce: Did you play the King? Groffsauce: Yes. Beyonce: I'm stealing your walk. I love your walk. Groffsauce: *inarticulate sounds*" Lin-Manuel Miranda tweeted. "2) Beyonce: When you turned away still facing the audience? *BEYONCE DEMONSTRATES FLAWLESSLY* Beyonce: You were your OWN turntable. Love it."
POLICE STATE: Deputy Sheriff who violently assaulted a teenage student in South Carolina has been fired. Administrators at the school meanwhile continue to defend him: "'The teacher and school administrator both support the actions of Ben Fields,' [Sheriff] Lott said, adding that they stated 'he did not use excessive force.'"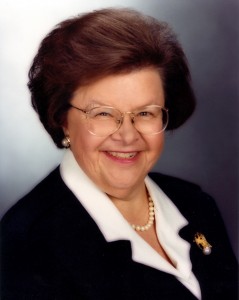 DOMA: U.S. Senator Barbara Mikulski (D-MD) defends Hillary Clinton's account of the 1996 Defense of Marriage Act, namely that it was a defensive measure to fend off a constitutional amendment that would have banned same-sex marriage: "What I believe [is] it was an ugly time, we took an action that was limited and had a lot of problems with it, but it did stop a constitutional amendment," Mikulski said. "Now, we're in a new day, there's a new energy, there's new legislation and I think we're moving to a very good place."
MORE DOMA: The fact checkers at The Washington Post don't agree: "Where Clinton's statement becomes problematic is when she says 'there was certainly evidence to support' that 'there was enough political momentum to amend the Constitution of the United States of America, and that there had to be some way to stop that.' This broader characterization of events frames the political momentum toward a constitutional amendment as so prevalent that DOMA had to be enacted as a defensive measure to stop the bubbling movement. That's absolutely wrong — and thus tipped us to Four Pinocchios."
MUSIC: Taylor Swift brings out Ricky Martin on stage in Miami to perform "Livin La Vida Loca" with her: "I'm about to bring out somebody whose album I bought when I was 10. When he came out, he paved the way for so many incredible Latin artists to cross over to pop and become huge and make amazing music. He's such an inspiring person, I'm so lucky to have him here tonight.
LEGISLATION: Gay Congressman Jared Polis (D-CO) introduced the Equality Act as an amendment in the House Education Committee to the Protecting Local Business Opportunity Act: "While the Equality Act is unrelated to that bill, Democrats insisted that the Committee should be more focused on legislation to achieve non-discrimination protections, labor rights, and paycheck fairness.  The amendment did not receive a vote."
ONLINE HARASSMENT: Film, music and interactive media festival South by Southwest (SXSW) cancels panel on Gamersgate and online harassment. Chris Kluwe gives voice to the many disgruntled by this move.
INTERNATIONAL: Costa Rica's same-sex domestic partner and civil union project remains stalled in the nation's Legislative Assembly: "Around 600 of 1,300 proposed amendments, most from Christian assemblypersons, remain to be considered. Only 30 minutes a week is devoted to considering the amendments. Gay activists have officially complained about the roadblock to the Inter-American Commission on Human Rights."
SPORTS: The World Series has already been won y'all.
LOOKING: Table read for the HBO movie that will wrap up the series took place in San Francisco yesterday.
https://instagram.com/p/9Ue_UCk0Ba/?taken-by=lookinghbo