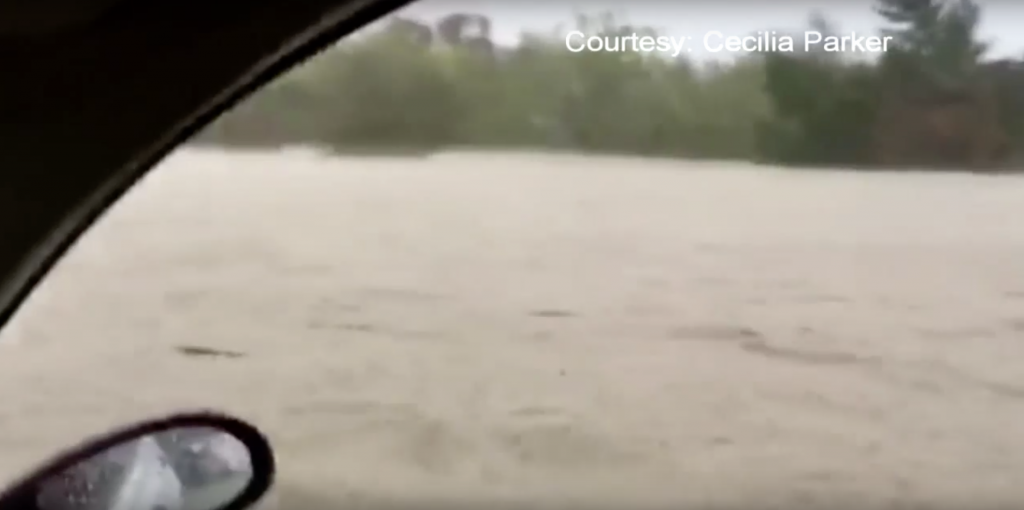 A man stranded in a tree after his car was washed away called an Austin TV station in an incredible video as flooding walloped Texas' capital city on Friday morning.
"Basically I was just driving down the road and there was what I though was a little bit of water, and I just was driving through it like I would, and it swept my car sideways and then almost tipped me over," Kerry Parker told KVUE-TV. "Thankfully, it didn't. It probably swept me about half a mile into the woods, and as soon as the car was almost filled with water, I swept past a tree and I jumped out of the window and climbed up a tree, so I'm about 20 feet up a tree right now."
No word on whether Parker has yet been rescued.
More on the flooding from Regional News Network:
Parts of Austin, TX are evacuating to higher ground as quickly rising floodwaters are threatening residents of low-lying areas.
The city of Austin, TX said several shelters have been opened for residents near Onion Creek, which has reached its highest point in recorded history, according to the National Weather Service.
The Austin-Bergstrom International Airport is closed after the ground floor of air traffic control was flooded by 6 inches of water.
The National Weather Service is reporting that more than 13 inches of rain has fallen since midnight Friday just south of Austin, TX.
Watch KVUE's report below.
https://www.youtube.com/watch?time_continue=176&v=0skAEQb07jw
Barton Springs & South First Flooding 🎥 @jasonmneff pic.twitter.com/QFzmoshaqN

— 365 Things Austin (@365ThingsAustin) October 30, 2015
U.S. 183 from overpass on 71 pic.twitter.com/fs63vWQqAL

— Noelle Newton (@NoelleNewtonn) October 30, 2015