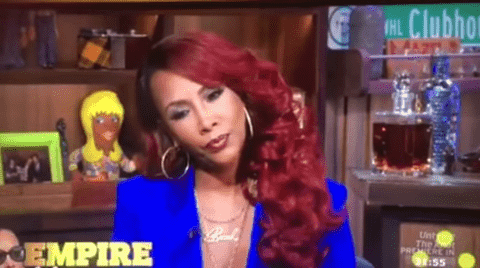 On Sunday night's Watch What Happens Live!, Vivica A. Fox implied that rapper 50 Cent is gay, causing 50 to fire back at the actress on Twitter and Instagram.
Host Andy Cohen asked Fox about the suggestion 50 made that Empire season 2 has seen a drop in ratings because of too much "gay stuff." Of her ex-beau, Fox said, "First of all, pot calling the kettle black is all I'm saying." Real Housewife of Atlanta Kandi, who was also a guest on WWHL, was taken aback by Fox's remark: "Woah! That was some tea. That was some shade. That was major shade." Andy couldn't seem to handle the implication either, fanning himself as the questioning proceeded.
Expanding on her insinuation, Fox said, "He just seems like he's got something that's not quite clear." She then added, "I'll just never forget there was a Vibe cover with him and Soulja Boy that made me go 'Hm.' […] He just looked like a bootysnatcher on that one to me." Fox also said that cover was done after the two dated.
The cover in question is from 2010: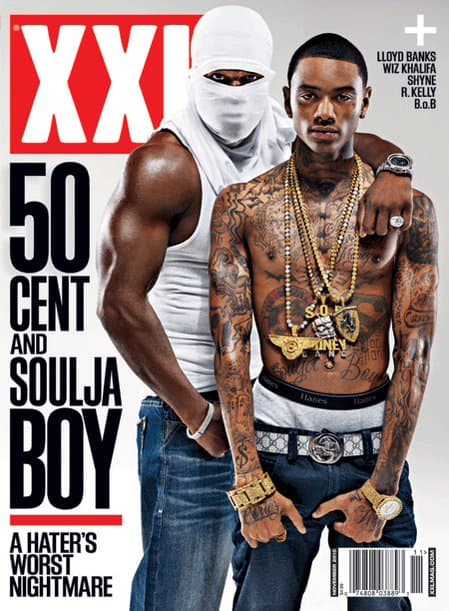 50 Cent and Soulja Boy were quick to fire back on social media with a series of unflattering photos of and insinuations about Fox.
https://instagram.com/p/92Vp5JLj2F/
50 Cent re-grammed that photo and also shared it with a caption of his own, responding to Fox's comments on WWHL: "? Oh No!!!, ? Now she thinks I'm gay because I let her lick my A**. ? LMAO. Wait,I didn't want her to,she forced me, my hands were tied. 50 shades of grey ?"
He went on to warn Fox that he is an internet troll and an "a**hole."
50 Cent also attacked Fox for allegedly having a "really bad boob job" and wrote, "b[*t]ch remember when you told me fuck Halle Berry and you could have played all the roles she did better then her? And I just looked at you ? like what the f*ck kind ?sh*t did you take?LMAO. #FRIGO#SMSAUDIO"
50 then attributed Fox's comments to typical Hollywood gossip.
https://instagram.com/p/920ea2MLzw/?taken-by=50cent
Fox was having none of 50's remarks, responding on Twitter that she has "more stories" she could share about 50:
They asked me about him n I answered the question! Mkay 😉 https://t.co/oC2mRsouvu

— Vivica A. Fox (@MsVivicaFox) November 9, 2015
I'm good dawling! Trust that n I got some stories too…#IJS #Unbothered 😉 https://t.co/AZLnvXV2Lw

— Vivica A. Fox (@MsVivicaFox) November 9, 2015
Exactly! He 4gets I've got some stories in my vault too!! Try it…#Unbothered #LifeIsGood 😉 https://t.co/LGisgnbPOL

— Vivica A. Fox (@MsVivicaFox) November 9, 2015
Naw!! I'm good just don't like him talking ish bout my family on #EmpireSeason2 #RealTalk https://t.co/ElsRQ3JCVo

— Vivica A. Fox (@MsVivicaFox) November 9, 2015
Regarding Soulja Boy, Fox said on Twitter that she apologizes for making any insinuation about him.
Let me say this!! Wasn't speaking about @souljaboy only my EX and his antics! I apologize for that to @souljaboy https://t.co/32oy4AH4gY

— Vivica A. Fox (@MsVivicaFox) November 9, 2015
As for 50's comments about Empire that sparked this latest conflagration, his publicist responded:
"Mr. Jackson reposted something on Instagram that originated from a blog in relation to the decrease in Empire's ratings.  When he realized there was additional content in the blog post that he did not agree with, he immediately deleted the post as that is not a reflection of his views at all."
Check out what 50 Cent re-grammed about Empire HERE.