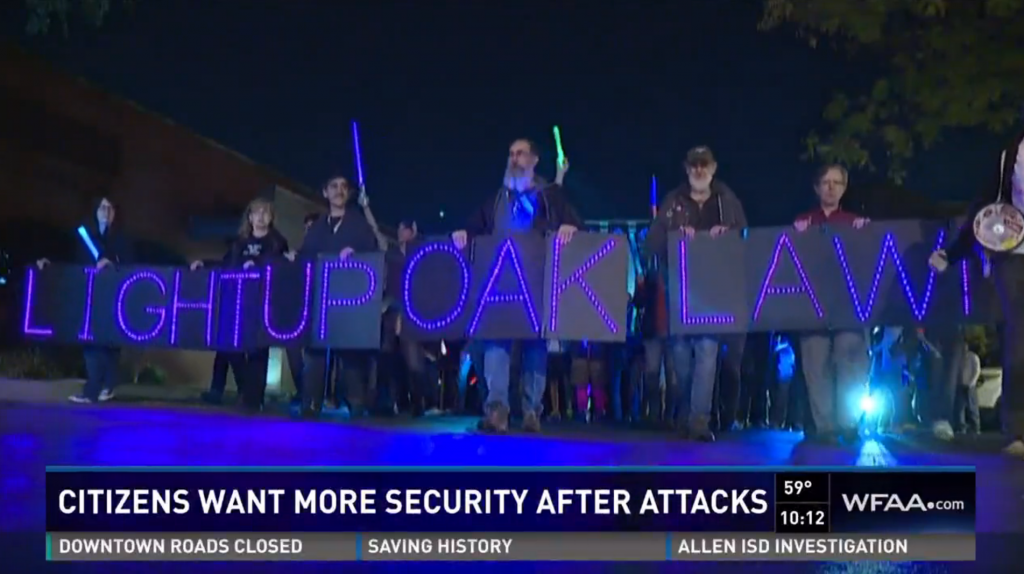 Dallas LGBT activists staged a rally Sunday night in response to a series of brutal assaults and robberies targeting bar patrons in the city's gay entertainment district.
However, the executive director of the Dallas Tavern Guild, a local association of gay bars, is downplaying the incidents.
As we reported last week, Dallas police say nine robberies and assaults occurred in the city's Oak Lawn gayborhood in September and October.
Dozens of people gathered Sunday night for the "Light Up Oak Lawn" rally and march, calling for better street lighting, more surveillance cameras and stronger partnerships between neighbors, businesses and police. WFAA-TV reports:
"I think there is a lot of cautiousness, and maybe even some fear among people," said Daniel Cates, an LGBT activist and one of the rally organizers. "I certainly think crime happens in almost every area, but these crimes seem to be targeting only gay men, and the violent nature as to how they are being conducted is really starting to concern people."
Recent victims in the Oak Lawn attacks have been beaten with bats, stomped, and robbed.
Michael Dominguez spoke during Sunday's rally. He was stabbed while walking home just a few weeks ago.
"I think something amazing can come out of what happened to not only myself, but the other eight survivors of these attacks," Dominguez said.
Michael Doughman, executive director of the Dallas Tavern Guild, wrote on Facebook recently that reports about the attacks are part of a "media campaign," according to Unicorn Booty:
"Our local media is creating a media firestorm that doesn't really exist. We have one of the safest areas in Dallas by police reports. Almost every attack is on individuals walking alone, late at night and intoxicated. Never a good idea. I hate that the media is making the area sound so dangerous. It's not dangerous if you just behave smartly."
Cates, the organizer of the rally, had this response for Doughman:
"Our community, the LGBTQ community, the community you serve and are a member of, has seen a major spike in violent crimes against us. Whether or not hate has been a factor in all of them is irrelevant. They are happening, period… and to skew statistics to keep from losing business is not only untruthful, it is dangerous and disgusting. To blame the survivors of this violence for their attacks is disrespectful, does further violence to them and displays ignorance of the fact that your businesses contribute to the conditions you bemoan.
"We have a real issue on our hands in Oak Lawn, and we need to tackle it as a community. Burying our heads in the sand and pointing fingers at those who have taken the physical and emotional punishment is not going to get the job done. It is time for you and the rest of the DTG to show us if you are IN this community or in it for the money. Right now it is difficult to tell."
Watch WFAA's report on the rally below.