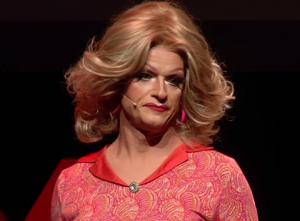 HIGHER LEARNING. Rory O'Neill, aka Panty Bliss, to receive an honorary degree from Trinity College Dublin: "Last year, the name Panti Bliss became known globally following the Pantigate controversy in 2014 and the subsequent 'Noble Call' anti-homophobia speech she made in the Abbey Theatre which went viral. Just last week, O'Neill was also honoured by his alma mater the Institute of Art, Design and Technology (IADT)."
CHICAGO. City's 'Magnificent Mile' shut down by protestors in wake of video release of killing of Laquan McDonald: "As they have all week, protesters — frustrated by the fact that it has taken more than a year for Van Dyke to be charged — on Friday demanded the resignation of Chicago Police Superintendent Garry McCarthy and the assignment of a special prosecutor to take over the case from Cook County officials. Protesters also accuse Mayor Rahm Emanuel of being tone deaf to what they allege is a systematic trend of police misconduct against African Americans in the city's most impoverished areas."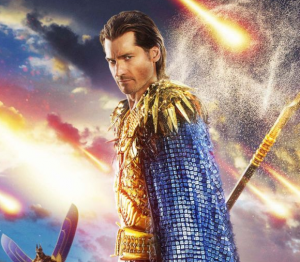 FILM. Director of upcoming film Gods of Egypt starring Gerard Butler and Nikolaj Coster-Waldau, for lack of diversity: "The process of casting a movie has many complicated variables, but it is clear that our casting choices should have been more diverse. I sincerely apologize to those who are offended by the decisions we made."
BABIES. Anne Hathaway is pregnant.
MEN. Arrow star Stephen Amell is a DILF.
COLORADO. Gunman in Planned Parenthood shooting in Colorado Springs captured alive. 11 reported injured. There are conflicting reports about fatalities: "The standoff, which included several sessions of a shooting standoff with police, concluded after well over five hours."
My thoughts & prayers are with the families of victims on today's standoff in Colorado Springs. Tragic loss of life in #PPShooting. #CoAG

— Colorado Attorney General (@COAttnyGeneral) November 28, 2015
POLITICS. Donald Trump dropped 12 points in Reuters/Ipsos' latest national poll: "Trump was the favorite of 31 percent of Republicans in a rolling poll in the five days ended on Nov. 27. That was down from a peak of 43 percent registered on Nov. 22. The dip follows criticism of Trump for comments he made in the aftermath of the Nov. 13 Paris attacks that killed 130 people and wounded hundreds more. Following the attacks, Trump told an NBC News reporter that he would support requiring all Muslims within the United States to be registered to a special database, which his critics have likened to the mandatory registration of Jews in Nazi Germany."
ADULT FILMS. When you won't leave a burning building because you have to finish watching your skin flick, you have a problem. 
BLACK FRIDAY. How did it go down across the US?
FACIAL HAIR. Zac Efron is sporting a porn-stache.
https://instagram.com/p/-l2bOsG87F/?taken-by=zacefron