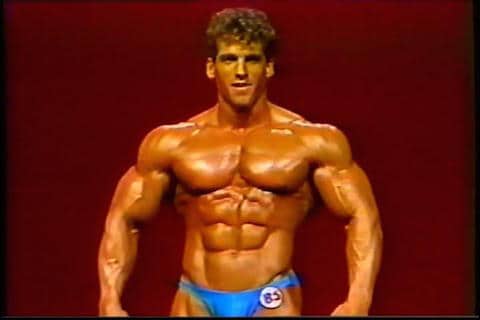 The list of out athletes continues to grow with names like Jason Collins, Michael Sam and Gus Kenworthy the most recent examples to make headlines. But long before they graced magazine covers and broke boundaries in their fields, gay bodybuilder Bob Paris was bringing LGBT issues to the mainstream.
"I think for a lot of us, we closed out possibility because of that queer element in our early lives and in the myth we grew up with that said, 'You can't do this, You can't do that,' whatever the limitations were," he told Sports Complex in 1998. "So many of us grew up with ideas of limitations. For a lot of us those ideas of limitations were expressed in athletics."
Throughout his nine year career, Paris was an accomplished competitor, including wins in the 1983 NPC American National and IFBB World Bodybuilding Championship. In 2006, Flex Magazine named him the No. 1 most aesthetic athlete in bodybuilding history.
Paris is more than just a chiseled physique. In addition to his physical accomplishments, he risked his bodybuilding career with his 1989 public coming out. Along with his relationships with Rod Jackson and Brian LeFurgey, Paris boldly advocated for the LGBT community long before it became as widely accepted as it is today.
See some classic clips of Paris below!
Heralded as "the second coming" of Steve Reeves. He placed first in the 1983 NPC American National championship. You can see him take the top prize above. He was crowned Mr. Universe the same year.
Paris officially came out in a 1989 issue of Iron Man Magazine. He told his story on talk shows, including appearances on The Joan Rivers Show, Donahue and Oprah. When asked why he didn't stay in the closet, he told Oprah, "You fall in love. When Rod and I met, we found a spiritual bond between each other," Paris said. "If you bastardize it and you stick it back in your back pocket where no one can see it, then pretty soon you chip away pieces of that bit by bit, until you have absolutely nothing left."
Paris spoke often about being married to Rod Jackson. The pair appeared together on television, on the runway (above) and even co-authored a book together, Straight From the Heart: A Love Story. The pair split after seven years. Now, Paris lives on an island near Vancouver with his husband Brian LeFurgey.
In addition to his work as a bodybuilder, author and activist, Paris is also an actor. He appeared on the stage alongside Bea Arthur, Sandy Duncan and Tyne Daly in the Broadway musical Jubilee. He also appeared in the short-lived ABC sci-fi drama Defying Gravity, which you can see a clip from, above.
Oprah caught up with Paris last year, and he shared more insight on how his coming out affected his career: "I lost about 80 percent of my business. Literally had doors closed in my face," he said. "There were a number of times where my life was threatened. Some death threats came by phone, by mail."
How do you think it has changed for LGBT athletes since Paris?