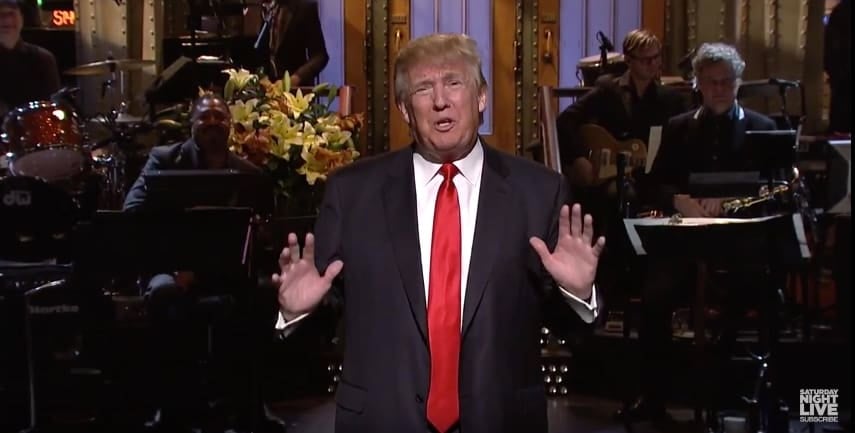 Donald Trump's cold open on SNL last night was fairly unremarkable and unfunny, consisting of a lame Rosie O'Donnell joke and members of the cast impersonating him.
The highlight came at a moment near the end when Larry David shouted, "You're  a racist!"
"NBC's refusal to drop Trump has put us in the position of dropping $5,000 of cold hard cash to anyone who will yell out 'Trump is a racist' during the live broadcast of 'Saturday Night Live,' said Santiago Cejudo, an organizer for the Deport Racism PAC, on Wednesday.
"We're hoping the $5,000 will help people on set or in the studio audience find the bravery to speak out loudly and help focus the national conversation on that we need to deport racism, not people," he added.
"It's 2016, and Trump needs to hear that you can't win the White House without the brown vote."
Said David: "I heard if they yelled that they'd give me $5,000."
Watch:
Trump got just 12 minutes on screen, according to Variety:
Trump, the leading Republican candidate for U.S. President, was spotted on screen for just about 12 minutes, according to Variety's measurement of the episode, and possibly a little less. In contrast, Amy Schumer was on screen for between 25 minutes and 26 minutes when she hosted the October 10th broadcast of the program and Miley Cyrus was on camera for between 21 minutes and 22 minutes when she hosted the venerable late-night series' 41st season opener on October 3.
And here's the cold open, which did a pretty bad job at mocking Friday night's Democratic forum.