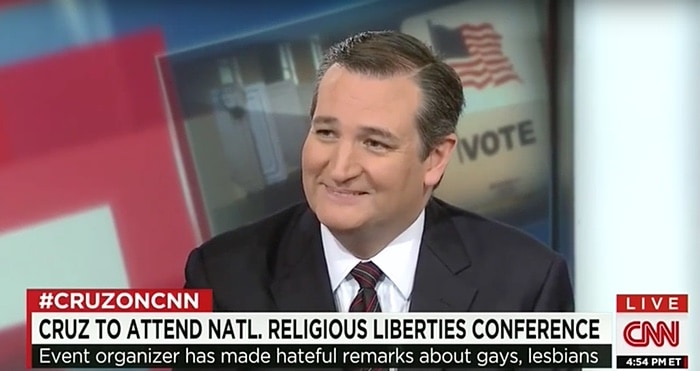 At the end of an interview with Ted Cruz, Jake Tapper asked Cruz about his attendance at  the National Religious Liberties Conference in Des Moines, Iowa, an event which began yesterday and continues today, organized by virulently anti-gay pastor Kevin Swanson. Mike Huckabee and Bobby Jindal are also attending.
Swanson has said that the government should put gay people to death, warned that the Girl Scouts and the movie "Frozen" turn girls into lesbians and blamed natural disasters on gay people and women who wear pantsSwanson has also said that churches accepting gay couples will lead to the persecution, imprisonment and murder of Christians, and wished for the good ole days when country singer Kacey Musgraves would have been hanged for her pro-gay lyrics. 
We've also just shown you the epic meltdown he had at the conference yesterday.
Asked Tapper: "Given what you've said about liberal intolerance, aren't you in some ways endorsing conservative intolerance?"
Cruz had this to say:
"Listen I don't know what this gentleman has said and what he hasn't said. I know that when it comes to religious liberty, this is a passion of mine that has been a passion of mine for decades. And that I have been fighting for religious liberty for everyone…for Christians, for Jews, for Muslims, for every one of us to practice our faith…"
https://www.youtube.com/watch?v=R17XDvXYHBc?#t=14m52s