Destiny and Power: The American Odyssey of George Herbert Walker Bush, a new biography of the 41st president, clarifies views on same-sex marriage that have "mellowed" since he left office. It also contains some criticisms of Dick Cheney and Donald Rumsfeld, the New York Times reports: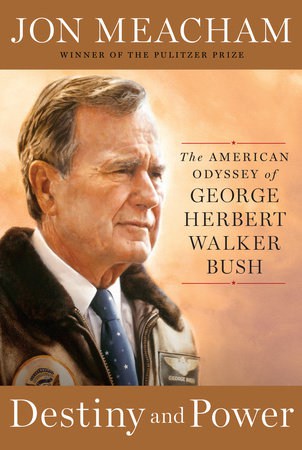 While gearing up for his 1988 campaign, Mr. Bush said in his audio diary that Americans "don't want homosexual marriages codified."
In retirement, he attended a same-sex marriage and in September of this year sent Mr. Meacham a note to clarify his position.
"Personally, I still believe in traditional marriage," Mr. Bush wrote. "But people should be able to do what they want to do, without discrimination. People have a right to be happy. I guess you could say I have mellowed."
Perhaps more interestingly, #41 goes after Dick Cheney and Donald Rumsfeld in the tome:
"He had his own empire there and marched to his own drummer," Mr. Bush said [of his son's administration]. "It just showed me that you cannot do it that way. The president should not have that worry."
…
He speculated that Mr. Cheney was influenced by his wife, Lynne, and his daughter Liz, both strong conservatives. "I've concluded that Lynne Cheney is a lot of the eminence grise here – iron-ass, tough as nails, driving," he said.
And he also calls Rumsfeld "arrogant".
"I think he served the president badly," Mr. Bush said. "I don't like what he did, and I think it hurt the president having his iron-ass view of everything. I've never been that close to him anyway. There's a lack of humility, a lack of seeing what the other guy thinks. He's more kick ass and take names, take numbers. I think he paid a price for that."
He added, "Rumsfeld was an arrogant fellow and self-assured, swagger."