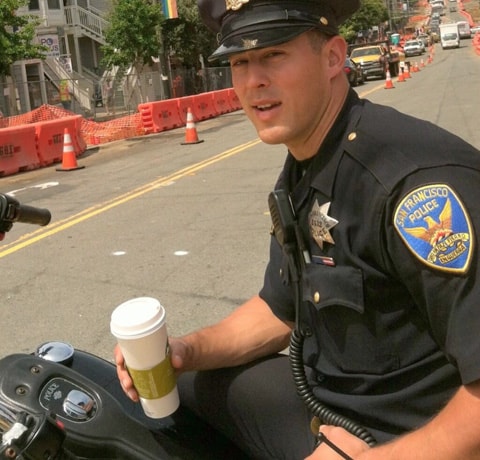 Chris Kohrs, who has become known as the 'Hot Cop of the Castro' after photos of him began circulating on social media starting in May 2014, has been arrested for a hit-and-run accident which injured two people early Sunday morning, the SF Examiner reports:
About 2:20 a.m., officers arrived to the intersection of Broadway and Montgomery Street and discovered two pedestrians who had been struck by a car, Andraychak said. The car, a Dodge Charger, was left at the scene but the driver reportedly fled the scene.
The two pedestrians, both men in their 40s, were taken to the hospital with serious but not life threatening injuries, Andraychak said. The men were apparently crossing Broadway when they were struck by the vehicle that was traveling west on Broadway.
During the course of their investigation, police identified Kohrs as the driver of the vehicle.
Witnesses say @SFPD Ofc. Chris Kohrs was driving this orange Dodge Charger when he hit 2 pedestrians then ran. pic.twitter.com/8F4UDjnbPs

— Lilian Kim (@liliankimnews) November 30, 2015
The L.A. Times adds:
Kohrs, 38, was arrested and booked on two felony counts of hit and run, police said. Kohrs was placed on administrative leave pending the investigation into the incident, SFPD Sgt. Michael Andraychak said.
Watch a report on "Hot Cop" Kohrs from last year:
(top photo by Mark Abramson)