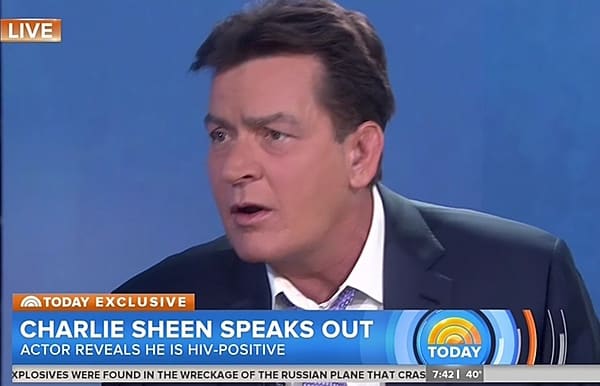 An online report has surfaced claiming a sex tape exists showing Charlie Sheen engaged in gay sexual acts while smoking crack cocaine.
The sensationalized report comes from RadarOnline, which claims to have viewed at least three "outlandish clips" in which Sheen ingests crack cocaine, performs oral sex on a male lover and engages in what Radar describes as "a hardcore sex act." The video reportedly dates back to 2011, the same year that Sheen was diagnosed as HIV positive.
Radar claims, "The tape was at the center of an explosive 'J. Roe v. John Doe' lawsuit that alleged an 'A-List celebrity' spread herpes." The suit accuses Sheen of entering "into a nefarious plot designed to lure Plaintiff into his luxurious hotel room to serve his prurient desires." The suit also claims that Sheen lied about having "no venereal diseases." The $20 million dollar lawsuit goes on to suggest that Sheen (unnamed in the court filings, but fingered by Radar's anonymous sources) and the male plaintiff engaged in "mutual oral copulation, mutual self-gratification, rubbing and massaging each other, play-wrestling, licking and (unprotected) intercourse."
The suit was reportedly settled out of court for millions of dollars and the tapes in question destroyed. Yet Radar says it obtained a bootlegged copy of the videos last week.
Meanwhile, the lawyer in the suit, Keith Davidson, claims the videos Radar purports to have seen have nothing to do with the case in question:
"The alleged video that you purportedly reviewed has nothing to do with the above referenced lawsuit which was filed and subsequently dismissed more than five years ago," he said, adding, "Though there was video evidence involved in the aforementioned case, that video evidence did not come close to portraying what you have described. Furthermore there was but one copy of that case related video evidence. That sole copy of the video evidence was irretrievably destroyed."
Adding a final cherry on top of its story, Radar has a source that alleges Sheen is "secretly bisexual."