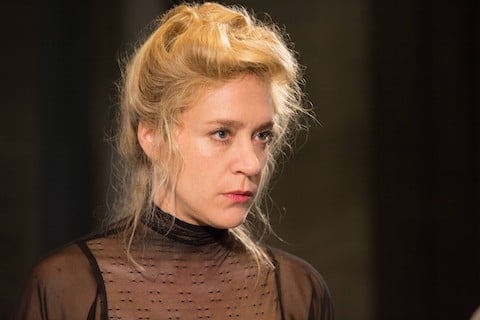 While this year's Halloween outing for American Horror Story: Hotel may not have technically been a two-parter, we did get another episode taking place around the holiday. This one may be even more disturbing than the last.
The episode, titled "Room Service," was a little too heavy on Chloe Sevigny's Alex (who desperately needs to drink a Red Bull and put a little life in that after life). However, Kathy Bates got to make Iris a bit more interesting, and we finally learned how Liz Taylor (Denis O'Hare) came to be.
All this and more in this week's SPOILER-filled recap, below.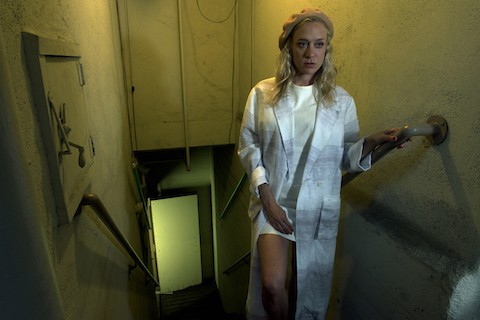 Whew. OK. Let's start with the craziest stuff, because, honestly, I'm eager to stop thinking about it. Alex (Sevigny) is currently inside the worst episode of Grey's Anatomy (and that's saying something). She's still coping with her new vampire status and is looking all kinds of rundown as she makes her way around the hospital. Her measles patient and his anti-vaccine mom are not doing great. The mom has even been asked to sign a DNR, so that's not an awesome sign. Alex has a brilliant idea: She'll just slip some of her eternal life vampire blood into the kid's IV and — voila! — he miraculously recovers.
Considering I can't so much as pick up a Z-Pak at CVS without at least a small speech from the pharmacist, it's a little insane that Alex sends the newly turned boy free into the world without so much as a whisper about the insatiable blood thirst. But, OK! Sure!
Once home, the kid slaughters his parents and drinks their blood, which is somehow hardly the most gruesome scene of the evening. That honor goes to what happens next.
It's Halloween at school and our young vampire/former-measles boy is dressed as a pirate. His teacher warns him to put away his sword, because of the school's no weapons rule. That's OK though because the boy stashed a knife in his boot. It's not long before he's leading a charge for the school's young students to all turn into vampires and brutally massacre the adults inside the building. As the police arrive, the kids concoct a story about a man in a mask committing the crimes and all go home to their soon-to-be dead parents.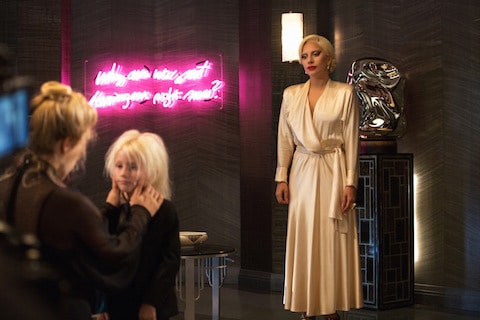 If Gaga is devastated by one of her proteges turning one person, I imagine a small army of child vampires is really going to test her patience. Or, maybe, she'll adopt them all into her jelly bean and video game room. She can open a sort of Hogwarts for vampires. That pool's got plenty of room for more glass coffins, especially if they start doubling up.
Speaking of that! Alex is taking up residency in the Hotel Cortez as the creepy kids' new governess. (Think of her like an undead Maria Von Trapp.) Her eternity reunited with Holden (Lennon Henry) begins with the two of them climbing into their glass coffin together, sleeping face-to-face. Cute?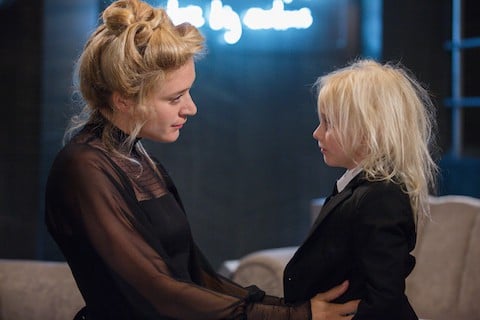 It seems like an almost happy ending for half the Lowe family, but what about the other two? For starters, poor Scarlett (Shree Crooks). If Gaga is so concerned about neglected children, you would think Scar would be at the top of her watchlist, right? Then there's Detective John (Wes Bentley). He had a brief (but rough) appearance in tonight's episode. First he's questioned about the Devil's Night killings which leads him to ramble on about undead killers and getting fired for being a little cuckoo bananas. At the hotel, he wakes up next to Sally (Sarah Paulson). She claims they've been doing it and doing it and doing it well, but it's all a bit hazy to John's recollection. Sally tells him they're destined to be together.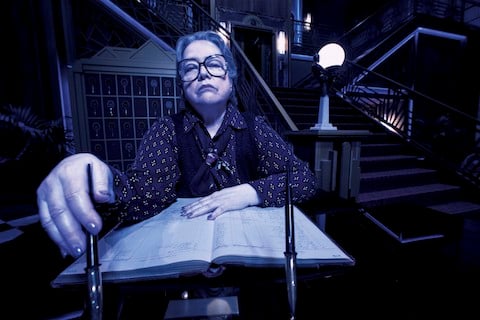 The bulk of our time tonight is spent with Iris (Kathy Bates). She's adjusting to her new eternal life, and those first few days don't seem like they're easy. Donovan (Matt Bomer) hauls her over to Ramona (Angela Bassett) and pitches her as the best possible inside man to takedown Gaga, since she's so close to The Countess, but practically invisible.
That kind of piling on really takes its toll on Iris, as she laments to Liz Taylor over a blood and triple sec cocktail. She goes on a sort of woe is me, "Mr. Cellophane" kick, bemoaning the fact she's trapped in re-runs of Harry's Law in this body for the rest of eternity and all the young, sexy people don't pay her no mind.
Young, sexy people like two god awful hipsters that come sauntering in asking about reduced rates for influencers. Their requests get more and more ridiculous (grilled romaine, pate, better sheets) until it drives poor Iris to her breaking point.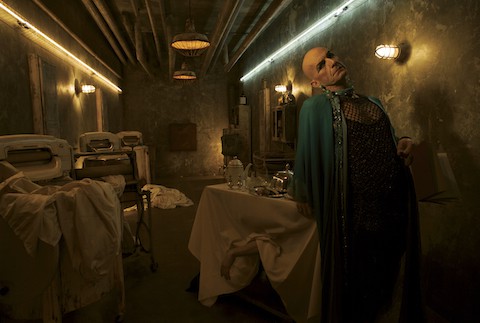 That's when the true star of tonight's episode (and maybe this whole season), Liz Taylor, steps in. He whips up a "pate" of cat food and shares his story for how he got his start at the Cortez. In 1984, he was just a simple family man in Middle America who desperately wanted to wear women's clothing. His business trips were his chance to lock himself up in his hotel room and indulge in slips and heels and furs.
On a visit to the Cortez, Gaga catches him in his room parading around in his pseudo drag. She treats him to a glamorous makeover and encourages him to embrace his true, born-this-way nature. She even gives him his new name. It's thrilling for him, and even the small trip down the hall for ice is an exhilarating adventure. Of course, while he's out there, he runs into his business partners who are back from a rowdy night out. The two dudes unleash a flurry of homophobia at poor Liz, but Gaga's there to save the day like the Mother Monster she is. She kills them both right in front of Liz. She didn't turn him, however. But she did hire him.
Back in the present day, Iris delivers the cat food pate to the insufferable hipsters. Thy continue to badger her until she flips and murders them both, feasting on their organic, non-GMO blood. As she tells Liz when they dump the bodies down the laundry chute: "It's ironic, but I never knew how to live until I died."
Let's hope we get plenty of more time to see this new Iris, since Gaga seems to already sense her meek manager is different. The Countess seems like a tough one to get one over on, so Iris should think hard about what team she wants to be on.
What did you think of tonight's episode?