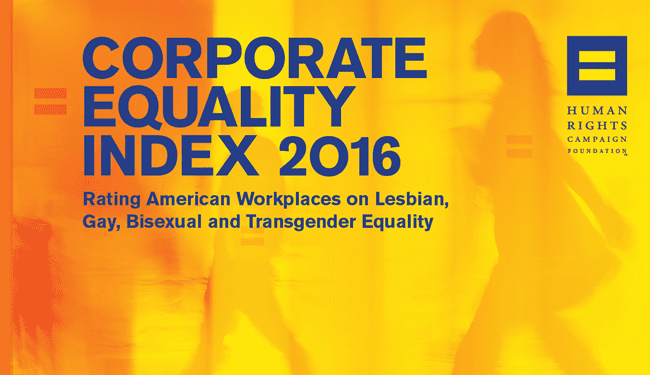 A record 407 businesses earned perfect scores of 100 percent on the Human Rights Campaign's Corporate Equality Index 2016, released Wednesday.
That's up from 366 perfect scores last year and only 13 in 2002, the first year the CEI was published, according to HRC.
The increase comes despite new criteria in 2016 requiring that companies have LGBT-inclusive nondiscrimination policies covering their global operations, that contractors used by companies abide by fully-inclusive nondiscrimination policies, and that companies refrain from making charitable gifts to organizations that have written policies or missions that incorporate LGBT discrimination.
"This year represents a milestone in the history of the CEI, and corporate America continues to break new ground in the fight for LGBT equality," HRC President Chad Griffin said in a statement. "Our nation's top companies this year have risen in record-breaking numbers to the challenge of extending non-discrimination protections to their LGBT employees around the globe. These companies and law firms have consistently shown leadership in building support for greater equality for LGBT employees, and not just within the walls of their own workplace. This year's CEI demonstrates that business understands what many have long known: The fight for LGBT equality does not end at our borders, but is a global endeavor that must be pursued with greater urgency than ever before."
BuzzFeed News reports that some companies with global nondiscrimination policies that received perfect scores, including Chevron and Shell, operate in countries with harsh anti-LGBT laws:
In such countries, invoking a company's nondiscrimination protections might require LGBT employees to out themselves to company officers in a way that could expose them to arrest or extortion. That could mean policies on paper have little effect on the ground, or might force companies into difficult confrontations with local governments. …
Shell and Chevron did not answer questions on the record about the implementation of nondiscrimination policies in these places. But Deena Fidas, director of HRC's Workplace Equality Program, said even if these policies don't rapidly translate to a better situation for LGBT workers in hostile countries, they are an important starting point.
"Our team would be the first to admit … that policy doesn't equal practice," Fidas told BuzzFeed News. "This doesn't mean that it's sunshine and roses globally in terms of the LGBT worker, but we need to start with this first step."
In addition to global nondiscrimination policies, companies continued to make strides on transgender equality. According to HRC, gender identity is now part of non-discrimination policies at 75 percent of Fortune 500 companies, up from just 3 percent in 2002. In addition, 511 companies participating in this year's CEI now offer transgender workers at least one health care plan that has transgender-inclusive coverage, a 150 percent increase since 2012.
Among the companies that received perfect scores this year were newcomers AirBnB, Twitter and Uber.
ExxonMobil, the only company to ever receive a negative score from HRC, increased its score by 65 points to a 40 percent in 2016. ExxonMobil received points for an LGBT-inclusive nondiscrimination policy, same-sex partner benefits and an employee resource group.