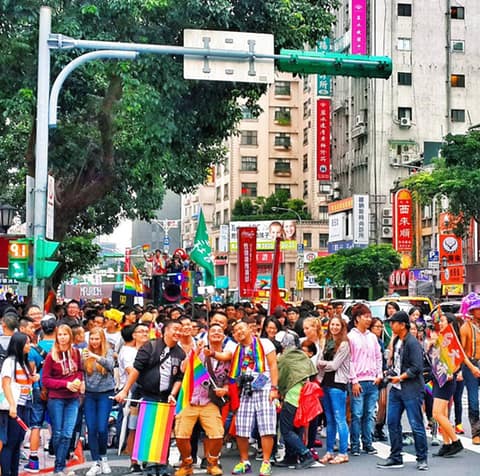 Nearly 80,000 people showed up for Asia's biggest LGBT Pride event, Taiwan Pride in Taipei yesterday.
In its 13th year, this year's pride parade broke all previous attendance records. The theme of this year's Pride festivities was "No Age Limits", meant to place focus on LGBT youth.
Organizers stated that Taiwan's youth needed greater encouragement without limitations placed on their personal exploration, and that they should be able to move beyond traditionally dominant mores on marriage and rearing children.
"Facing the social standard for 'age-appropriate' adults to get married and have children, those who are not willing to fulfill this expectation are often seen as irresponsible or selfish," organizers stated.
However, the theme did arouse some controversy in Taiwan:
"A local youth advocacy organization opposed the parade's "No Age Limit" theme centered on sexual exploration, stating that such messages were inappropriate for some age groups. Lee Chung-hwa, chief executive of Lin-Feng Advocacy Group (沐風關懷協會) said yesterday that he respected different sexual orientations, but found the message of the parade irresponsible. He said sexual autonomy within the youth could create social problems including increased abortions and sexual assault."
A major political figure in Taiwan posted a video on social media in support of the LGBT Pride event, raising questions about the future of marriage equality legislation in the country which has stalled. The Taipei Times reports:
Democratic Progressive Party Chairwoman and presidential candidate Tsai Ing-wen (蔡英文) posted a video on Facebook, saying she supported marriage equality, and that all are equal before love.
Later, in response to media queries about the issue of regulations recognizing unions between same-sex couples, Tsai said it is an issue that society must confront, adding that as there are supporters and opponents, she hopes everyone can view the matter rationally.
Of the political environment surrounding LGBT issues in Taiwan, NDTV adds:
While Taiwan is one of the most progressive Asian societies when it comes to homosexuality, a bill to make same-sex marriage legal has been stalled in parliament since it was first proposed in 2013.
"There's been huge changes in the society in recent years with a lot of grassroot efforts pushing for equality," said Jennifer Lu, an openly gay candidate for the Social Democratic Party in next year's elections.
"But the government hasn't kept pace. That's why I want to run," she told AFP.
Check out a round-up of photos and videos from Taiwan Pride 2015 below:
https://instagram.com/p/9hmcbkueST/?tagged=taiwanpride
https://instagram.com/p/9gwc6YEwVW/?tagged=taiwanpride
https://instagram.com/p/9gYNouPUcY/?tagged=taiwanpride
https://instagram.com/p/9gETX3RvGb/?tagged=taiwanpride
https://instagram.com/p/9foaEVod5L/?tagged=taiwanpride
https://instagram.com/p/9flX81whyI/?tagged=taiwanpride
https://instagram.com/p/9h6FgeySic/?tagged=%E5%90%8C%E5%BF%97%E5%A4%A7%E9%81%8A%E8%A1%8C
https://instagram.com/p/9h2gyZALpt/?tagged=%E5%90%8C%E5%BF%97%E5%A4%A7%E9%81%8A%E8%A1%8C
https://instagram.com/p/9h0fYlG2Ew/?tagged=%E5%90%8C%E5%BF%97%E5%A4%A7%E9%81%8A%E8%A1%8C
https://instagram.com/p/9h123qG2Ht/?tagged=%E5%90%8C%E5%BF%97%E5%A4%A7%E9%81%8A%E8%A1%8C
https://instagram.com/p/9gyaAzxq2H/?tagged=%E5%90%8C%E5%BF%97%E5%A4%A7%E9%81%8A%E8%A1%8C
https://instagram.com/p/9gi4GsnzFy/?tagged=%E5%90%8C%E5%BF%97%E5%A4%A7%E9%81%8A%E8%A1%8C
https://instagram.com/p/9gZ7NMk5uc/?tagged=%E5%90%8C%E5%BF%97%E5%A4%A7%E9%81%8A%E8%A1%8C
https://instagram.com/p/9gGFrYpeCa/?tagged=%E5%90%8C%E5%BF%97%E5%A4%A7%E9%81%8A%E8%A1%8C
https://instagram.com/p/9gdYRAq3ph/?tagged=taiwanpride