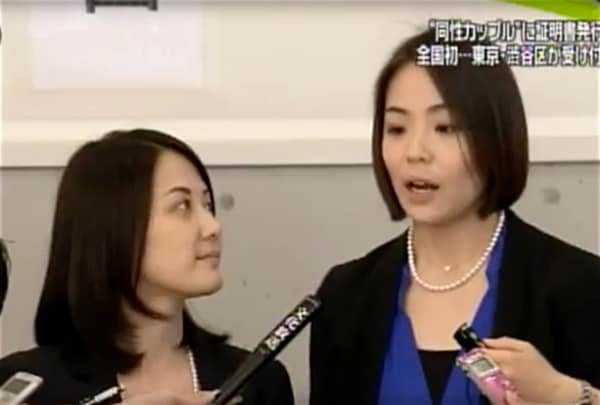 Tokyo's Shibuya ward is the first jurisdiction in Japan to issue certificates recognizing same-sex unions, implementing a vote taken by local authorities in April.
Hiroko Masuhara and Koyuki Higashi were the first couple to apply and received their certificate on Thursday, The Guardian reports:
Shibuya ward on Thursday began issuing same-sex partnerships to couples aged 20 or over, who are required to sign a notary document confirming they were in a loving relationship based on trust, according to Kyodo News.
While Japan does not place the partnerships on a legal par with heterosexual marriages, officials said the move was designed to support same-sex couples, who say they are routinely discriminated against when looking for accommodation or visiting partners in hospital…
…"I want many people to know that same-sex couples are around you," Higashi, an actor, said outside the ward office, where she and Masuhara, an entrepreneur, were congratulated by the mayor, Ken Hasebe. "As a first step, I hope this will spread across Japan."
Tokyo ward Setagaya soon joined Shibuya, issuing certificates later on Thursday as well.
A March Mainichi newspaper poll had 44 percent of respondents approving of same-sex marriage, while 39 percent opposed. Women, young people, and city dwellers were more likely to support same-sex marriage.
Local news covered Masuhara and Higashi as they went to apply:
https://www.youtube.com/watch?v=9W01nUapzrU