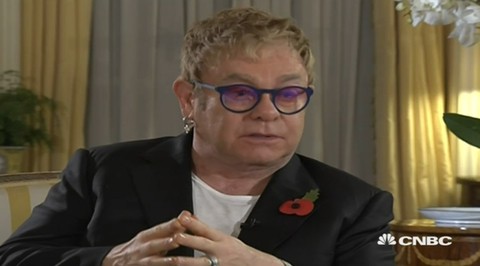 Speaking with CNBC on Thursday, Sir Elton John and David Furnish discussed their new partnership with the President's Emergency Plan for AIDS Relief (PREPFAR).
The Elton John AIDS Foundation and PREPFAR will each contribute $5 million "increase access to medication for people with HIV and AIDS in countries that are prejudiced toward the lesbian, gay, bisexual, and transgender (LGBT) community," as CNBC reports. The initiative will primarily target sub-saharan Africa. Thirty-four African countries criminalize homosexuality and in some cases it's a crime punishable by death.
Addressing the fact that many of these nations are members of the British Commonwealth, John said that Queen Elizabeth II could change these laws "with one wave of her hand", something he said he would bring up with her if "the worst comes to the worst":
Elton John: These laws come from Common, you know the commonwealth. These laws can be changed very easily by the Queen saying, 'change the law.' I haven't approached her about that yet.
CNBC: Will you do?
Elton John: But it's a – yeah well, if the worst comes to the worst, one has to, yeah. These are old laws from the British commonwealth, I mean these can be changed. And so the Queen could do that with one wave of her hand…
Elton John also addressed his phone call with Russian President Vladimir Putin:
"I haven't… I've talked to him on the telephone. We're trying to arrange a date when I can go to Moscow and talk to him. I feel very honoured that he wants to see me and he's put the olive branch out and it's essential that I do go over there and just put my foot in the water and see what we can do change the situation for LGBT people in Russia. Even though the Russians say it's great it is very very, it's not great at all. But you know, as I said, I want to try and knock the wall down a little bit, so I will be trying to go and see him. He was very pleasant on the phone, he apologised for the fake interview I did. He was very genial and I was very very impressed."
You can watch the full interview with CNBC, below: